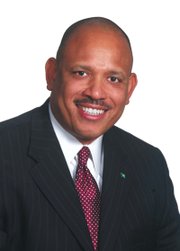 By SANCHESKA BROWN
Tribune Staff Reporter
sbrown@tribunemedia.net
FNM deputy chairman Dr Duane Sands said the "infighting" within the Free National Movement is a "public relations nightmare" that is distracting the country from "the government's dismal performance."
Dr Sands admitted that the party had challenges but said he is more than confident they can overcome them.
His comments came two days after an FNM insider told The Tribune the rivalry between FNM leader Dr Hubert Minnis and deputy leader Loretta Butler-Turner is hurting the political organisation.
The well-placed source, who did not want to be named, said despite public utterances by Mrs Butler-Turner that there is no rift between her and Dr Minnis over her political ambitions, it is clear the two are at odds. Mrs Butler-Turner has admitted she is canvassing the country to see what level of support she has for a possible leadership run.
"We need to keep the public's support," Dr Sands said. "I think that we have some challenges that need to be sorted out and it is clear from the back and forth that we need to communicate better within the party. It is also obvious that our public perception problem reflects some challenges that have not been well hidden and it is an unfortunate distraction from the very important issues that worry Bahamians.
"All parties have issues," he added. "The PLP, the FNM, the DNA – all of them. But our supporters in the FNM want us to get it right and leave all the drama behind. I am very concerned about what is happening within the party, it's like we are giving the PLP a pass and as long as we continue fighting they will continue to get away with a dismal performance and continue with their dismal record."
Yesterday Dr Sands was coy when asked about his own political ambitions. He said he will "run for some office" at the FNM's next convention; however he declined to say what position he will be vying for.
"I am going to make myself available for office, but I am undecided on what that will be right now and that is an honest answer," he said.
"My interest is the best interest of the Bahamas first and the party second. But I feel like the best interest of the people is the FNM and we have to strengthen our appeal so even if it provides me with a disadvantage now, it will all work out in the end. While there are many people that will be saying I should do this or I should do that, I am guided by what I think is in the best interest of the country."
In January, Dr Sands told The Tribune he is considering running for leader of the FNM but said he had not made a final decision because there were conflicts that "pull me in other directions".
The FNM is expected to hold its convention in the first quarter of 2015.