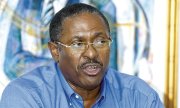 By SANCHESKA BROWN
Tribune Staff Reporter
sbrown@tribunemedia.net
PLP Chairman Bradley Roberts yesterday blamed FNM Leader Dr Hubert Minnis for "systematic failures, irregularities and vulnerabilities" in the Public Hospitals Authority that Mr Roberts said the PLP now has to clean up.
In a scathing statement critical of Dr Minnis, Mr Roberts said for five years the Killarney MP failed to make a decision or act as the minister of health and was "too busy" to know what was going on in the PHA.
He also hit out at Dr Minnis' calls for an investigation into the Renward Wells letter of intent controversy.
"Some advice for Dr Minnis: when you call for an investigation into the letter of intent, also call for an investigation into the PHA inventory management and make yourself available to answer questions about what you knew, what you did and did not do during the time you served as minister of health," Mr Roberts said.
His comments came after a forensic report into the PHA highlighted instances of "possible fraud and wastage" and "defective systems". According to the recently leaked report, the lax practices led to $10m in pharmaceuticals being unaccounted for and allowed drugs bought for "emergencies" to expire on shelves.
"For five whole years, he failed to make a decision or act as the substantive minister of health where repeated systemic failures, irregularities, risks and vulnerabilities plagued the Public Hospital Authority, costing taxpayers tens of millions of dollars," Mr Roberts said.
"Addressing this PHA matter to protect the people's money and the public's interests was a no-brainer, but Minnis did not see his way nor did he care enough to make any decision in the public interest. His deafening silence during that period and in the wake of the audit findings indicate that he was asleep at the wheel, clueless or just did not care about what was going on under their nose."
His comments came after Dr Minnis told The Nassau Guardian that an auditor's finding that $10m in pharmaceuticals could not be accounted for at the Princess Margaret Hospital last year was a clerical issue. Dr Minnis said there were two clerical errors in the report that "any accountant could have caught."
Dr Minnis, who served as minister of health from 2007-2012, also said there was a clerical error in the audit where one litre of intravenous fluid, which he said costs less than $20, was recorded as $5.4m.
In the House of Assembly last week, government minister Dr Bernard Nottage and Shane Gibson blamed the FNM for the $10m discrepancy. However, the report says that the period for the unaccounted drugs was 2013, when Dr Minnis was no longer health minister.
Current Minister of Health Dr Perry Gomez has said the report is under review and that it is too early to say if anyone will face consequences.
However, Mr Roberts insisted the government is taking the right steps.
"It was the PLP government who commissioned the forensic audit substantially covering the period July 1, 2006 to June 30, 2013. The audit results revealed systemic challenges and irregularities or a mess that this PLP government will have to clean up. The action the PLP government is now taking in this matter to protect the public's interest is a no-brainer," Mr Roberts said. "His bluster and hyperbole in the media cannot deflect from his culpability in this matter as it exposes his leadership deficit and poor decision making skills, if any at all."