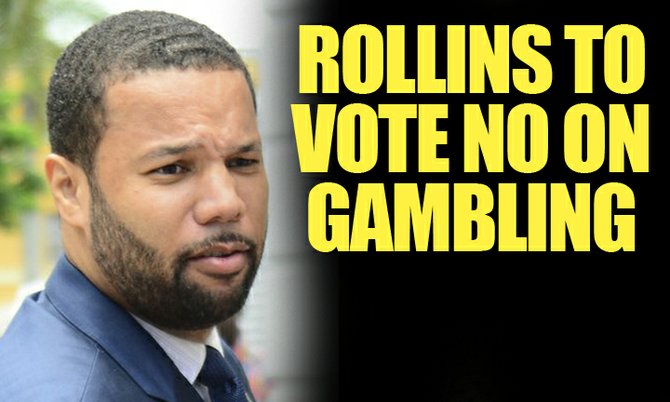 By RASHAD ROLLE
Tribune Staff Reporter
rrolle@tribunemedia.net
FORT Charlotte MP Dr Andre Rollins said he will vote "no" to the Gaming Bill if it remains in its current form because it discriminates against Bahamians and facilitates corruption.
Dr Rollins said the bill will "sanitise" previous convictions of webshop bosses who violated the Lotteries and Gaming Act, an action he decried as unfair because Bahamians who continue to suffer the loss of job opportunities because of minor criminal convictions are not afforded the same luxury.
He also revealed that as Gaming Board chairman, neither he nor other Gaming Board members were included in the process of creating the Bill. Dr Rollins was fired from his post nearly two weeks ago.
"Contrary to public belief, even though I was chairman of the Gaming Board I was not ever a part of the process to revise this Bill," he told reporters after the new Bill was tabled in the House of Assembly.
"No member of the appointed board was invited. You have to question what is the real reason for having an appointed board if they aren't asked to participate in the construction of the legislation that governs the very agency they are supposed to be policing."
Dr Rollins added that the Bill gives too much power to the minister responsible for gaming.
"What I am concerned about is . . . this Bill will result in the nullification of the appointed board because all of the decision making will ultimately rest with the minister," he said. "It is a mistake for the Bill to make those kind of revisions because in any responsible jurisdiction you have boards of multiple people who decide on any disputes or make decisions with respect to the industry and the industry stakeholders have a right to appeal, but not to a politician.
"This Bill, however, invites a tremendous amount of potential for corruption because you are allowing one person to have all of the power and make them susceptible to the whims of those in the industry who are not supportive of the actions taken by the appointed board."
The new Bill allows people to appeal to the minister responsible for gaming if the Gaming Board declines to give them, among other things, key employee or gaming employee licences.
The Bill also allows the minister to make any decision after consulting with the board, whether that decision relates to the board itself or to applications for a licence, among other things.
In saying the Bill overlooks the past criminal convictions of webshop operators, Dr Rollins referred to FML Web Shop CEO Craig Flowers, who was convicted in 2011 of permitting his premises to be used for a lottery and promoting, organising and conducting a lottery. Mr Flowers was subsequently fined $10,000 and almost $1m, which was taken by police during a raid of his establishment several years ago, was confiscated.
"This legislation sanitises what took place as it relates to illegal gaming prior to 2014," Dr Rollins said. "It means that whatever confiscated funds were taken, those funds are no longer belonging to the Treasury but (back to the person from whom they were confiscated). This causes me as an elected representative to question how it is that we are bringing forward legislation that exonerates an individual when we have many ... who are of the lower economic strata who have been convicted of minor crimes who are clamouring for their records to be clean or to have their records cleared of whatever minor criminal charges that they were convicted of.
"The public has the right to expect that any legislation that does for one should simultaneously be accompanied by legislation that seeks to make provisions across the board for the empowerment of individuals who in this economy now are being disfranchised for offences committed in the past, but after many years of living a life free of crime, where they are law-abiding and seeking to do their best to put their past behind them, no such measures are being brought to this House to give them any opportunity to redeem themselves in the eyes of the private sector for them to be given a job."
Dr Rollins said the government's decision to accept money from Mr Flowers placed it in a position where it felt the need to ignore his prior conviction.
"The fact is the government has accepted Mr Flowers' money in any number of respects, whether it be as someone donating to the relief efforts following Hurricane Ike down in Inagua or someone who is a major sponsor of Junkanoo. I think that is where we as politicians have really erred or have been guilty of perpetuating hypocrisy in that we have refused to address this issue of webshop gaming while at the same time having no difficulty accepting those individuals' monies.
"We should never have willingly perpetuated the criminalisation of individuals unless we were prepared to do without the money of the industry. I think it would be expected that if Mr Flowers' financial generosity were not accepted, the government would have had a stronger case to say they would hold his past conviction against him," he said.