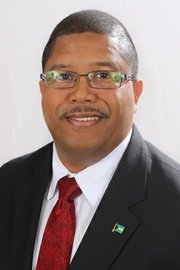 By AVA TURNQUEST
Tribune Chief Reporter
aturnquest@tribunemedia.net
FNM Shadow minister for Finance Peter Turnquest yesterday said it was critical for the government to address minimum wage concerns before the implementation of Value Added Tax (VAT).
Mr Turnquest also renewed concerns over the government's haste to implement the new tax in comparison to other jurisdictions, adding that attempts to "do a million things all at once" was a recipe for disaster.
"It's critical," he said. "You don't want people in the hole per se and then have to figure out how to get them out. We need to have all of these conversations before VAT is implemented."
"As we look at the increase in cost of living as a result of this VAT, and all of the taxes that this government has put on the Bahamian people, we have to consider whether we are putting ordinary Bahamians at a disadvantage in terms of falling below that poverty line."
National statistics released in June revealed that 12.8 per cent of the population are living in poverty, with a 3.5 per cent hike in the annual poverty line since the last recorded study in 2001, from $2,863 to $4,247.
The annual minimum wage for public servants increased from $10,700 to $11,500 in July with the promise to renegotiate further increases if the government generates greater revenue from natural resources.
However, the wage minimum for the private sector remains at $150 weekly/$4 per hour – an estimated $7,800 annually.
Labour Director Robert Farquharson told The Tribune last month that he was optimistic that there would be an increase in the private sector minimum wage.
Mr Farquharson said private sector consultation was on track to present recommendations to Labour Minister Shane Gibson for deliberation in Cabinet before the end of the year.
He added that while he could not speak for stakeholders, the initial research phase of the consultation process was moving forward amicably.
His comments came days after Bahamas Chamber of Commerce and Employers Confederation chairman Robert Myers renewed concerns over the dangers of a minimum wage increase.
Mr Myers warned that it was "dangerous" for the Christie administration to promise a minimum wage increase without any empirical data to assess the consequences, especially given that business operating costs in the Bahamas were already too high.
The government plans to implement VAT at a rate of 7.5 per cent on January 1.
This weekend, the Ministry of Finance released updated guidelines on the new tax and transitional arrangements.
Mr Turnquest said: "I'm understanding that the VAT implementation team and the department is still in the process of being set up that they have not gotten all of the organisation in place yet or the people in place yet. We're trying to do a million things all at once, it's a recipe for disaster. Hopefully, we'll get it together but in my mind it's a little quick."
"If you go back to the experience of all of the other countries that have implemented VAT, there was almost two to three years between the time that they passed the legislation and actually did the implementation. We're trying to do it in less than four months, that is incredibly ambitious."
He said: "I don't believe that we have done enough study and analysis of the economy to be able to determine whether in fact we need to look at things like wage adjustments and if we're going to give social service, what level of social services need to be done and how we're going to do it. "
Mr Turnquest noted that the Free National Movement has not held a caucus meeting on the issue of minimum wage; however, he said that the party's position was in support of Bahamian workers.
He said: "We know that there is a basic wage that is necessary in order to meet your basic needs, it is something that certainly has to be considered in this new economy.
"We support the right for every Bahamian to make a decent, honest wage that allows them to meet their basic commitments."