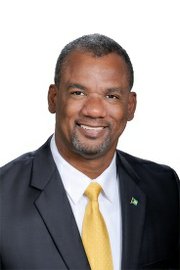 By NICO SCAVELLA
EDUCATION Minister Jerome Fitzgerald yesterday called recent statements from the Union of Tertiary Educators of the Bahamas (UTEB) "irrational and irresponsible" after the union called the relationship between the Bahamas Agricultural and Marine Sciences Institute (BAMSI) and the College of the Bahamas (COB) a "charade."
Responding to comments made last week by UTEB that suggested that BAMSI was trying to use COB to legitimise its academic programme, Mr Fitzgerald said for anyone to think that the college would be used in a manner beyond what it was set out for by persons who have a "personal connection" with COB and BAMSI is "totally unreasonable."
Mr Fitzgerald also said that a memorandum of understanding (MOU) between both institutions was nearing its conclusion. He was part of a contingent of Cabinet ministers who, along with the media, took part in a government-led tour of the site in North Andros yesterday.

"They made a statement saying that BAMSI was using COB to legitimise itself, and I found that statement to be irrational and irresponsible," Mr Fitzgerald said.
"The appointment of the head of BAMSI, Dr Raveena Roberts-Hanna is a professor at COB who is also a member of UTEB. So to think that we would appoint a qualified young Bahamian to come and be a part of some 'charade' really is totally irresponsible and irrational thinking on their part.
"It is a shame that with all of the work going on (here) and with all of this pointing for a very bright future for us, that there's still those in this country who don't want to even see or believe, and even though they see, they don't want to see."
Last week UTEB issued a statement that called the current relationship between BAMSI and COB a "charade" and said the "forced relationship" between the two had given "the ill-conceived BAMSI a sense of legitimacy" that would lead to an "academic Titanic."
The union called COB's involvement with BAMSI a "source of contention and confusion". The union also said it was concerned about COB officials being tight-lipped about "misleading statements" by government and BAMSI officials trying to tie the two together.
The union took exception to BAMSI having yet to enter into an MOU with COB while already having done so with the University of Miami, which was executed during a signing ceremony at the Rosential School on Virginia Key in July.
Since then, the union said it had "consistently advised" COB's Council chairman to be "cautious in his zeal" to partner with a "government driven entity that still lacks clear planning, direction or accountability". The union also said it had warned the chairman against BAMSI's "exploitation of the already strained intellectual capital and physical resources of the cash strapped college."
However, Mr Fitzgerald called the claims "totally reckless statements" that should not have been issued "without having some basis for finding out what the truth is."
"COB and BAMSI are working diligently to get the MOU completed," he said. "Last week we went over the draft of it and this week we're supposed to finalise the conclusion of it. That means all the work that goes on behind the course outline, preparing the courses and so forth, getting those approved by COB; all that is being done now, and we will not have a course in here that COB does not sanction, that they don't have oversight over, that they don't have total control over approving who lectures the programme, because all of that comes from their accreditation of the programme.
He added: "The (UTEB) president has every avenue available to him to find out the facts. He can call me, he can talk to the chairman. It's simple. There's no reason for him to issue such a statement. As a leader you cannot just come and say something just because somebody tells you that's what it is. Moving forward I would just invite him and others, if they want to have the answers to questions, just ask."
Minister of Agriculture Alfred Gray echoed Mr Fitzgerald's comments.
"Their (UTEB) role is to ensure that their members are treated well and fairly, etc, but the government has taken on this project," he said. "There is no stopping it. That's why BAMSI has its own staff, its own student population, so even though its under the auspices of COB and to be the University of the Bahamas, this is a stand alone college, meaning it has its own administration. So I am not sure what the union of COB is talking about.
In statement released yesterday, the COB said that BAMSI's mission was "in perfect alignment with the mission of the college."
COB denied being in a "forced relationship" with BAMSI and called it a privilege by COB administrators and faculty members to be asked by the government to "provide academic quality-assurance oversight of such a major initiative (of the government) to promote food security and applied research in agriculture and the marine resources of the Bahamas."