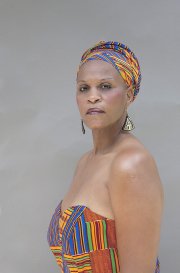 FOR THE third time, a multi-disciplinary, multi-cultural project by award-winning Bahamian artist Alexis Caputo has received an educational endorsement in the State of Florida.
The AFRO Diaries series, authored by Ms Caputo, offers a window into the miscarriages women endure, whether addressing the critical issue of race, class, gender, identity, cultural, human rights, social issues and other concerns creating conflict and inequality in society.
Receiving the endorsement from the Miami-Dade County Public Schools system this year, she said, effectively marks it as an esteemed arts in education project.
"The AFRO Diaries series and women's collective is to foster a movement by a heritage of women, serving women and girls from all walks of life. Multicultural and inter-generational audiences can benefit from this movement nationally and internationally," she said.
Ms Caputo, who also teaches university classes on Caribbean/West Indian cultural dance, is now preparing to take the AFRO Diaries on an international tour.
The project is scheduled to be presented at Broward College for Black History Month in 2015 and the Little Haiti Cultural Centre in Miami, which has partnered with AFRO Diaries for a March 2015 performance in honour of Women's History Month.
Ms Caputo said the tour, which includes performances, workshops, residencies, presentation partnerships and collaborations, has garnered interest from several universities and colleges.
Meanwhile, next up for the AFRO Diaries series is a special look at Junkanoo.
"A new play is under development comprised of Junkanoo elements as theatre, dance and music, documentary, screenplay, sophomore music compilation and visual arts project. The corporations Utrecht/Blick Arts and Home Depot are official sponsors and community partners for the visual component," she said.
"I would like to infuse these in a play/choreo-poem with the interdisciplinary elements of music, performance theatre and dance. This would be a semblance of Afro-centric musical theatre. AFRO Diaries has a landscape of narratives. Many reference liberation. Liberation as we know, comes from falling from the grasp and strong hold of slavery, colonisation, tyrants, oppressors and governments. Hence we have independence. Whenever one is freed of something or someone that previously eclipsed there movement, this is cause to celebrate. In the narratives and performance of AFRO Diaries I strive to give myself and others the room needed to re-examine things we've been taught in church, school or written in any book. In doing so, we are able to exercise our rights in a socially democratic way, while entertaining, educating and sharing history. The celebration of Junkanoo references independence."
Since the AFRO Diaries project launch in 2012, the project has gained momentum and attracted international interest.
Some of the celebrated projects of AFRO Diaries are the commissioned choreo-poem "Hector Pieterson" from Lesole's Dance Project, a South African dance company in partnership with the South African Embassy in Washington, DC, and the documentary film, "Elders of the Diaspora", in partnership with the Oscar Thomas Foundation.
In 2013, the project was sponsored by a fellow Bahamian and one of the country's most noted artists and cultural activists, Antonius Roberts of Antonius Roberts Studio & Gallery at Hillside House. In addition, the project has been rendered corporate and private sponsorship monies for educational and community based tailored projects, in addition to grants from major philanthropic and arts institutions such as: JP Morgan Chase, Autonation/Maroone, Broward Cultural Division, National Endowment for the Arts and RUSH Philanthropic Arts Foundation.
Amongst the AFRO Diaries library are also: "Raw Footage" (2011); "The Lynching Eye" (2011); "SOULED OUT" (2010); "The Waiting Room" (2010); "Truths Carved from the Belly" (2009); "Women of the Drum" (2008)"; "The Proud Pilgrim" (2007); "Spit Boxing" (2003); "Deconstruction & Deliverance" (2002), and the poetry and spoken word compilation "Unnecessary Noise Prohibited".
Previous presentations from the AFRO DIARIES library have been at Barry University, Broward Community College, City University of New York, Florida International University (North Campus), Florida International University (South Campus), Miami Dade College (North) and Nova Southeastern University, among others.
Off-Broadway presentations have been at venues including the Harlem Theatre Company, Henry Street Langston Hughes Cultural Centre, Sunrise Civic Centre, African-American Research Library and Cultural Centre, Miami-Dade Cultural Centre, Lou Rawls Performing Arts Centre, and Studio at 360.
Ms Caputo is an honours scholar and graduate of New York University, where she studied at Tisch School of the Arts and the Steinhardt School of Culture, Education and Human Development. She holds degrees in Liberal Studies, Music, Performing Arts and Education with a concentration in Educational Theatre.
To learn more about the AFRO Diaries project, visit: www.facebook.com/afrodiaries.