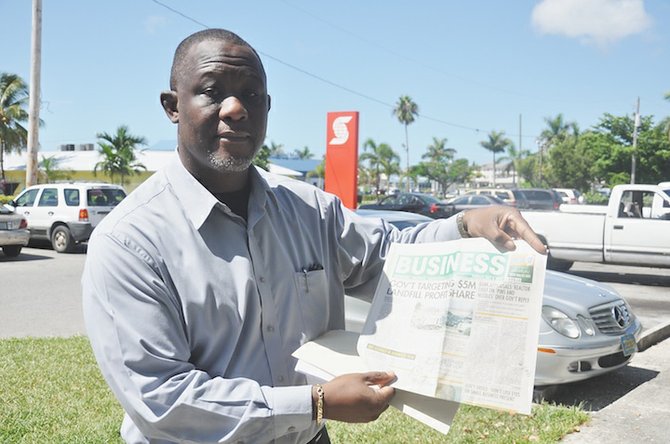 By DENISE MAYCOCK
Tribune Freeport Reporter
dmaycock@tribunemedia.net
FAMILIES For Justice founder Rev Glenroy Bethel claims that the granting of a business licence to a Canadian company for mortgage appraisals in the Bahamas was illegal and should be revoked immediately.
He alleges that the National Appraisal Services (NAS), which is operated by a foreign firm, is not in compliance with the Real Estate Act, which states that a broker or agent must be a Bahamian citizen or have permanent residence in the Bahamas.
He further claims that the Bahamas Real Estate Association (BREA) had never approved the application for NAS, which, if true, would be a breach of the Act. The Tribune attempted to contact BREA offices yesterday, but there was no answer.
"We have some serious questions on the functions of the BREA because based on the Act, the Association should have reviewed the application and, if in compliance, the Board would have granted the Canadian firm a licence. We found that is not the case and we believe the Ministry of Foreign Investment must explain to the Bahamian people how these people were allowed to come into the Bahamas and obtain an appraisal licence to appraise Bahamian property," he said.
Bahamian appraisers are being asked by RBC Royal Bank and Scotiabank to sign up to a new appraisal system run by NAS, which is solely responsible for all appraisals in the Bahamas for the two Canadian-owned banks. If they do not, they will no longer receive any work from the banks.
Rev Bethel thinks that the banks' involvement with NAS is a conflict of interest. "In an article in The Tribune Business dated July 8, 'Bank Appraisals - Real Estate Chief on Pins and Needles on Government Reply,' it was stated plainly that Scotiabank and Royal Bank are behind this. How could a foreign investor come here and take over appraisals in the Bahamas?" he asked.
"We must stop RBC and Scotiabank from this scheme to devalue Bahamian properties," he said. "I am making a plea to the Minister of State for Investment, the government of the Bahamas and BREA to immediately revoke the NAS business licence. This will protect Bahamian properties throughout the Bahamas and hundreds of jobs for appraisers in the country."
While some of the local appraisers in Freeport have signed with NAS, Rev Bethel said that others feel they are being pressured to join the new appraisal system.
"We had an opportunity to speak with several appraisers here. They are being pressured to be a part of the company," he claimed.
Appraisers are used by the banks to provide appraisals to help protect security for mortgage loans. This would ensure that there is enough collateral and that the subject property is not over valued.
A Freeport appraiser, who did not wish to be named, said under the new system it asks for comparables. "Freeport doesn't have comparables because property sells here for too many different reasons," he said.
The appraiser said RBC and Scotiabank are two major banks and those who do not sign up with NAS could lose a lot of business.
Certified Appraiser Aston Jones said NAS could work, but some of the clauses in the contract need to be changed. "It can be a good thing, but it has to be done in the right way," he said. "They sent a contract to all appraisers here and we were asked not to sign it because the lawyers are looking at it. I think this is maybe the second or third time that the contract was sent back to them for adjustments.
"NAS would decide which appraiser gets the work. If you accept, they are responsible for paying you and they are responsible to send you certain information and if you use it for another bank, they have the right to terminate your services. We are trying to work through those items to see if it can be beneficial to the appraiser."
Mr Jones believes that the Canadian company is seeking to control appraisals in Canada and the Caribbean.