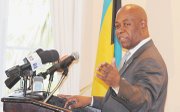 By AVA TURNQUEST
Tribune Chief Reporter
aturnquest@tribunemedia.net
WEST Grand Bahama and Bimini MP Obie Wilchcombe yesterday blasted Opposition Leader Dr Hubert Minnis over his stance against the legalisation and regularisation of webshops.
Mr Wilchcombe, Minister of Tourism with responsibility for gaming, charged that a true leader would not "flip-flop" as he outlined the previous support of such an initiative by the FNM when it was the government.
His comments, addressed directly to Dr Minnis during his contribution to debate over the Gaming Bill in the House of Assembly, were later expunged from the record.
Mr Wilchcombe dismissed opposition criticism of the proposed legislation, adding that the first Bahamian government faced similar concerns in its move to legalise casino gaming.
"I don't have to make a speech in this area, all I have to do is quote the former prime minister," he said, "because I am so confused by the present leader of the Opposition."
"I don't know when he (Dr Minnis) was elected to the House of Assembly, I don't know if he knows when he was a minister. I can't understand it."
Mr Wilchcombe said: "Twenty-one years ago when I came into parliament I took a position then, the same position that (Hubert) Ingraham makes because he's right. But let me ask you a question Killarney (Dr Minnis), was Ingraham then trying to take care of backers? That's what you allege, you allege that now, that's what he (Dr Minnis) said – gaming bill for the selected few, reward for PLP backers.
"Is that why you (FNM) came up with the laws, Computer Waging Licence Act 2010?"
Mr Wilchcombe tabled articles published in The Tribune on February 15, 2008; April 14, 2010; and December 13, 2011 – all of which indicated the FNM's support for legalising web shop gaming due to the inability to enforce a shutdown and the country's fiscal challenges, and attempts made to initiate the process.
"At the end of the day we don't back down from what we believe in, that's not what we must do. We wish to take positions that we think would be politically attractive and sexy and we don't understand, that's not leadership," he said.
"The truth is they (FNM) had a position, I supported that position then, I supported their position. I never believed that now the present leader of the Opposition is now pretending that he knew nothing about nothing."
He added: "The web shops got their licences because of the FNM."
Dr Minnis stood on a point of order to assert that his position against the move to legalise web shops was rooted in the principle that the Bahamian people voted against it in the 2013 gaming referendum.
Mr Wilchcombe also pointed out that former prime minister Hubert Ingraham also declared that the government would have to consider alternative taxes after it dropped efforts to regulate web shops.
"It's disappointing because we can't take this country forward until such time as the Opposition begins to appreciate that some things aren't political," he said. "Leaders don't do that, you stand for what you believe in, you die for what you believe in."