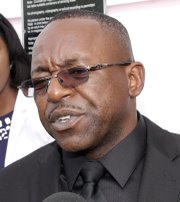 By RICARDO WELLS
The founder of the Clifton National Heritage Foundation (CNHF), attorney Keod Smith, added his name to the growing list of sceptics of the government's handling of oil spills and leaks in south-western New Providence.
In a statement yesterday, Mr Smith claimed that the slow government response has pushed his organisation and others like it to proceed with public action in an attempt to get the issue resolved.
"We urge the government to continue to meet with all of the stakeholders to determine a balanced and workable environmental management plan for the south-western region of the island," Mr Smith, a former MP, said.
Adelaide and surrounding areas, including the Clifton National Heritage Park, have experienced a number of oil spill related issues over the years, leaving many to question the government's environmental plan of action.
Mr Smith called on the government to strengthen its collaborative efforts with environmental groups like CNHF, the BEST Commission and reEarth to produce a workable environmental management plan.
He added that the government should encourage civic bodies and citizens to get more "involved and concerned" about the potential dangers that oil spills could have on the environment.
The lawyer claimed that if persons have a better understanding of what damage oil spills can cause, they would do more to resolve and prevent them.
The CNHF founder also urged the government to ensure that those found "culpable" and "negligible" in oil spills are reprimanded and held accountable for such issues.
Nearly two weeks ago, an official of diving company Stuart Cove's complained that "black crude oil" and fuel oil emanating from the Bahamas Electricity Corporation's Clifton Pier plant are preventing the company from conducting its business.
Days later, residents of Adelaide raised concern over the waves of "smelly black oil" that appeared on Adelaide Beach. They feared the oil might have been the result of ongoing oil leaks from the Clifton Pier plant.
Subsequently, Minister of Transport and Aviation, Glenys Hanna Martin labeled the matter as a "priority" for the Christie administration.
Mr Smith acknowledged and applauded the "quick and decisive" efforts made by Ms Hanna Martin and her team but called for more action.
Last week, Ms Hanna Martin told the House of Assembly that the government suspected that the oil, which washed ashore on Adelaide Beach, came from a passing ship and not BEC.