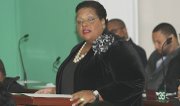 AN INSIDER in the Free National Movement has charged that rivalry between the leaders of the party is hurting the political organisation.
The well-placed source, who did not want to be named, said despite public utterances by Deputy Leader Loretta Butler-Turner that there is no rift between her and party Leader Dr Hubert Minnis over her political ambitions, it is clear the two are at odds.
"It's time for Loretta Butler-Turner to step down as deputy leader because she is allowing her political ambitions to destroy the party," the FNM said. "Lorry deserves some credit for down-playing the North Abaco confrontation but nobody believes her."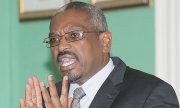 The insider was referring to a party that took place in North Abaco earlier this month where some claimed the Long Island MP "snubbed" Dr Minnis. Mrs Butler-Turner has maintained that the gathering was a private event held by her supporters as she canvasses the country to see how much support she has for a leadership run.
She has said that Dr Minnis arrived at the party uninvited and two hours late with his wife, but insists she greeted him warmly and he enjoyed hospitality at the event. However, she said she did not allow Dr Minnis to speak at the party because she did not think it was appropriate.
However, some have said the party was an FNM event that Dr Minnis was invited to attend.
"Of course when she says Hubert Minnis has nothing to worry about, he knows this very well because he knows she intends to run against him," the FNM added. "She simply needs to stop that charade, it is highly inappropriate for a sitting deputy leader to be so openly running against the leader, the very act of going throughout the country canvassing views is an expression of lack of confidence in the leader and frankly the only honourable course of action to her is to step down as deputy until convention, because the only harmful discord that exists is between her and Minnis.
"It is clear that the leadership circle is not big enough for the two of them and everybody knows that."
Mrs Butler-Turner addressed reports of growing tension between herself and Dr Minnis last Wednesday, while on the radio talk show "Let's Talk Live".
"I am not going to try and take the leader out," Mrs Butler-Turner told talk show host Carlton Smith. "That is not my position. But there will come a time when a convention is expected to be held when people need to know is this a viable option for me."
She added: "When you look at my character and when you look at how I have conducted myself, always I think that people don't have to second guess what I am going to do. I was often told by my grandmother that politics is a dirty game; I believe that politics is what people make it. Maybe because people do tend to do things behind closed doors – they use cloaks and daggers and everything – I have been a very up-front person. I try to be very open with who I am and what I am going to do.
"I have had this conversation with my leader on more than one occasion and I have always said to him, 'You know, you don't have to worry about where I am coming from. If I am going to do something you will be the first to know' and I think in that vein a lot of people don't understand me."
In June, Mrs Butler-Turner told The Tribune that she was weighing her options and considering running for party leader at the FNM's next convention. At the time, she said, she was inundated with support from FNMs asking her to consider the party's top post.
The FNM is expected to hold a convention next year.