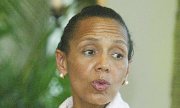 By NICO SCAVELLA
Tribune Staff Reporter
nscavella@tribunemedia.net
ATTORNEY General Allyson Maynard-Gibson said yesterday "things are moving in the right direction" with the government's attempt to eradicate the "revolving door on bail".
Her comments came as senators debated amendments to the Bail Act meant to give more restrictions on the grant of bail.
"There's no point in us ignoring what is happening in our society today," Mrs Maynard-Gibson said. "We know that police officers have told us that when somebody has been released on bail, they're in the food store or the movies and the person comes up and says: 'See me here, aint I tell you I was going to get bail?'"
"If we continue the swift justice initiatives and we continue to, as is necessary, tweak our laws to keep us in accordance with 21st century standards, we expect that our citizens will no longer feel there is a revolving door for bail."
Earlier this month, the Christie administration outlined restrictions in a Bill to Amend the Bail Act that seeks to lessen the number of violent offenders who receive bail.
Under the existing Bail Act, people charged with such major crimes as murder, armed robbery, rape, possession of automatic weapons, possession of a firearm with intent and kidnapping are prohibited from receiving bail except when the court believes such people have not been tried - or are unlikely to be tried - within a reasonable time, so long as certain conditions are met.
Under the Bill to Amend the Bail Act, applicants, as opposed to the prosecution, will have the onus of proving that they should be granted bail. The court will be forced to consider the safety of the victims of their crimes when deciding whether to grant bail.
According to Mrs Maynard-Gibson, the amendments will also protect complainants and will eliminate the business of persons acting as professional bondsmen.
The senator also highlighted the provisions of the Evidence Amendment Bill, a technology-based bill that would allow for Family Islands residents to testify from at home by video link rather than "flying in (to Nassau) and all of the costs that is involved."
She said provisions in the Evidence Amendment Bill would enable the government to "expand the use of technology and most particularly video conferencing."
"We're using it in all of our Supreme Courts, we're using it in the Industrial Tribunal, we're using it at the Remand Centre at Fox Hill, we're using it at the hospital at Sandilands for psychiatric reports, and Cabinet has just agreed to the acquisition of video link facilities equipment to be placed in the administrator's offices on various islands," she said. "This Bill introduces an additional feature and that is the court can allow video link evidence to be given where the witness is intimidated and the court feels that it is in the interest of justice so that evidence may be given by way of video link. In those circumstances we can also note that the court can allow witness anonymity, so we can even have video link evidence where the witness' voice or face has been changed and/or shielded because of the witness anonymity orders as well."