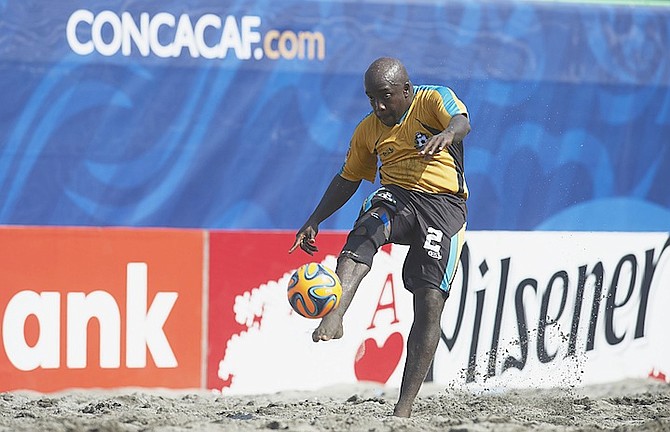 By RENALDO DORSETT
Sports Reporter
rdorsett@tribunemedia.net
THE dream of FIFA World Cup Beach Soccer qualification continues for the Bahamas today as the playoff round begins against top regional competition.
The "Rake and Scrape Boys" are slated to take on host country El Salvador today in the quarter-finals at the CONCACAF Beach Soccer Championships.
The Bahamas finished second in group stage after they suffered their first loss of the tournament on Tuesday night, 6-2 to the United States.
The Bahamas trailed 3-0 headed into the third period before Lesly St Fleur scored the first of his two goals in the match. The US finished the group stage undefeated while the Bahamas enters the quarter-finals at 2-1.
In the opening match, the Bahamas topped Barbados 10-4. The Bahamas got out to a quick 2-0 lead on goals from St Fleur and Hanna before Bardados would answer and score three unanswered goals to take the lead.
Gary Joseph regained the lead for the Bahamas, before Barbados would tie again and the Bahamas moved ahead for good on a goal from Gavin Christie.
With a 5-4 lead, the Bahamas pushed the tempo, found their stride on the offensive end and closed the game on a 5-0 run. They also clamped down defensively and held Barbados scoreless in the remaining frame.
The Bahamas clinched a berth in the quarter-finals after a 4-3 over Antigua and Barbuda in their second match.
St Fleur scored two goals, Ehran Hanna would add another and Antigua and Barbuda's Gershun Philip was charged with an own goal which gave the Bahamas the edge at match end.
Antigua and Barbuda's Odel Murray scored a hat trick for his side, but could not get enough goal support to come away with the win. He led his team to an early 2-0 lead before St Fleur and Hanna scored the equalisers.
Team Bahamas' coaching staff is headed by Roberto Ceciliano, assisted by Stephen Bellot and Julian Smith.
The CONCACAF Beach Soccer championship has a record 16-team field comprising hosts El Salvador, Antigua and Barbuda, the Bahamas, Barbados, Belize, Costa Rica, Guadeloupe, Guatemala, Jamaica, Mexico, Panama, Puerto Rico, Trinidad and Tobago, Turks and Caicos Islands, United States and US Virgin Islands.
Teams are vying for two honours, the CONCACAF title and one of two automatic bids to the FIFA Beach Soccer World Cup Portugal 2015 this July.
The Bahamas won the bid to host the 2017 Beach Soccer World Cup having been the venue for the 2013 CONCACAF qualification tournament at their beach soccer facility on East Bay Street.
The United States won the gold from El Salvador, while Mexico got the bronze and Costa Rica was fourth. The Bahamas finished sixth after losing to Guatemala in the fifth-place game on a penalty shot. The two teams ended the regulation in a 6-6 tie.
"It is an honour and privilege for CONCACAF to welcome such an appropriate tournament to the Caribbean region," said CONCACAF president Jeffrey Webb. "We wish them all the best in the ongoing preparations for this historic event and look forward to extending the Caribbean's warmth and hospitality to all qualified teams in 2017."