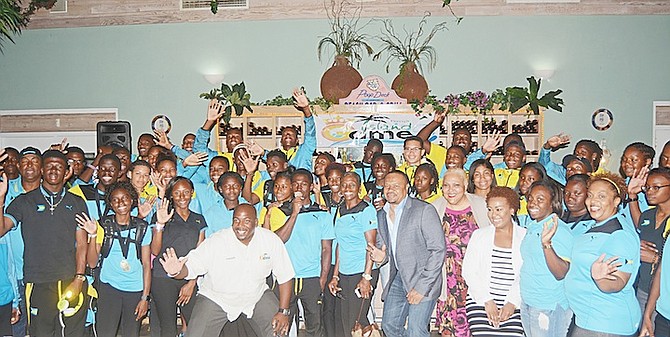 The CARIFTA track and field team, managed by Doris Rolle-Ramsey and coached by John Ingraham, returned home yesterday to the delight of a welcome reception at The Poop Deck at Sandyport.
With a smaller team, the Bahamas regained its second place behind powerhouse Jamaica as the Silver Jubilee CARIFTA Games came to a close Monday night in St Kitts and Nevis.
In a complete turn around from last year, the Bahamas' 53-member team, led by the double gold-medal performances from jumper Charisma Taylor and Grand Bahamian middle distance runner Shaquania Dorsett, unofficially collected a total of 31 medals, inclusive of eight gold, 13 silver and 10 bronze to surpass last year's dismal showing of seventh place with 19 medals, including just one gold.
Jamaica once again dominated the four-day meet with 85 medals (41 gold, 25 silver, 19 bronze), while Barbados trailed the Bahamas in third with 16 medals (7 gold, 4 silver, 5 bronze).
Gold medallists
Charisma Taylor, under-18 girls triple jump,
12.01m (39-5)
Charisma Taylor, under-18 girls long jump,
5.93m (19-5 1/2)
Shaquania Dorsett, under-20 girls 400m,
53.40 secs
Javan Martin, under-18 boys 100m,
10.41 secs
Tamar Green, under-18 boys triple jump,
15.21m (49-11)
Shaquania Dorsett, under-20 girls 800m,
2:11.99
Tavonte Mott, under-17 boys 110m hurdles,
13.1 secs (hand time)
Deondre Rutherford, under-18 boys discus,
47.41m (155-6)
Silver medallists
Danielle Gibson, under-20 girls long jump,
5.99m (19-8)
Keianna Albury, under-20 girls 100m,
11.64 secs
Denzel Pratt, under-20 boys javelin,
66.48m (218-11)
LaQuan Nairn, under-20 boys high jump
Brianna Bethel, under-18 girls 200m,
23.47 secs
Javan Martin, under-18 boys 200m, 21.16
Justin Pinder, under-20 boys 800m, 1:52.59
Xavier Coakley, under-20 boys 110m
hurdles, 13.51 secs
Girls under-20 4 x 100m relay -Jerinique Brookes, Jenae Ambrose, Alexis Gray and Keianna Albury, 45.59
Boys under-20 4 x 100m relay - Xavier Coakley, Tyler Bowe, Ken Russell and Stephen Green, 40.41
Girls under-18 4 x 400m relay - Doneisha Anderson, Britni Fountain, Brianne Bethel and D'Nia Freeman, 3:40.58
Boys under-20 4 x 400m relay, 3:12.33
Bronze medallists
Serena Brown, under-18 girls discus,
44.20m (145-0)
Danielle Gibson, under-20 girls triple jump,
13.05m (42-9 3/4)
Drexel Maycock, under-20 boys discus,
51.14m (167-9)
LaQuell Harris under-18 girls shot put,
14.54m (47-81/2)
Henry DeLuze, under-20 boys 400m,
47.19 secs
Brinna Bethel, under-17 girls 100m,
11.49 secs
Jenae Ambrose, under-20 girls 100m,
11.74 secs
Keianna Albury, under-20 girls 200m, 23.49
Boys under-18 4 x 100m relay - Jonathon Smith, Javan Martin, Kaze Poitier and Donovan Storr, 41.77
Boys under-18 4 x 400m relay - Bradley Dormeus, Kaze Poitier, Byron Wilson and Donovan Storr, 3:18.12