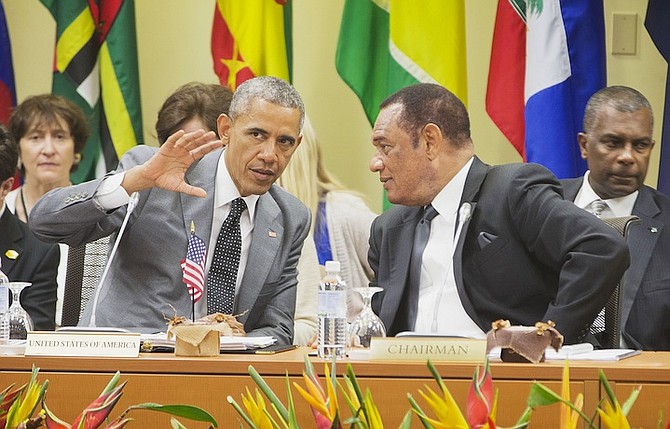 CRIME and security risks "rank high among the principal threats and obstacles" to growth in the region, Prime Minister Perry Christie told the CARICOM-US Summit in Kingston, Jamaica yesterday, stressing that Caribbean countries value the support of the United States in this area.
Mr Christie, the current chair of CARICOM, addressed US President Barack Obama who was present for the meeting.
Mr Christie said he was speaking for the region's youth, who need a sense of hope, job prospects and good educational opportunities.
"We cannot surrender them to the negative forces of crime and war in far flung climes," Mr Christie said. "If this meeting produces anything today, it must be to ensure the future of our young people. If we fail in that mission, we do so at our peril.
"At the centre then of this mission for us is that of human development. This must be done in a safe and secure environment, with respect for the sovereignty and territorial integrity of all.
"In this connection, we welcome therefore, the recent development toward the settlement of the Nuclear Framework Agreement with Iran in which the United States played a major role under your leadership."
"In addition, in our own region the dialogue between Cuba and the United States toward normalisation of the relationship is a pleasing and welcomed development."
He added that regional leaders were pleased to hear US Vice President Biden announce at a recent meeting in Washington last January "that some action was being taken by your administration in respect of facilitating our access to development financing in areas related to climate change, energy and disaster management."

On the issue of crime and security, Mr Christie said: "In my own country, as the closest offshore country to the United States, the benefits of security cooperation are obvious to our people; the fight against transnational crime, including illegal migration is urgent, the importation of guns from America wreaks havoc and needs to be stopped. That is but one country's example of the sense of urgency we feel on crime and security across the region. More must be done in a practical way to stop the crime. Let us work together to build a zone of peace; to stop crime; to end the violence; promote our young and ensure our common futures."
He added: "Mr President, we met before in Port of Spain and in Cartagena. We agreed in those fora on specific actions. For many, the results in concrete terms did not match the loftiness of the declarations made there. This time, this meeting should mark a new and positive beginning for the CARICOM-US relationship, with a mechanism for partnership in place for the progress of our region and its people. The outcome of our discussions today will no doubt strengthen the partnership between us. Let us build on these discussions, seeing them as part of a continuing conversation, and leaving here with a concrete set of actions which we mean to accomplish."