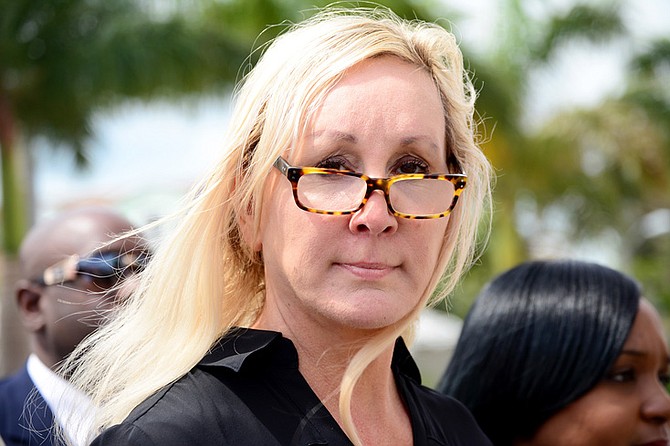 By LAMECH JOHNSON
Tribune Staff Reporter
ljohnson@tribunemedia.net
THE Australian wife of murdered millionaire podiatrist Phillip Vasyli will remain in jail for a little longer until her lawyers are prepared to argue her bail application before the country's second highest court.
Donna Vasyli appeared before Justices Anita Allen, Abdulai Conteh and Neville Adderley in the Court of Appeal for what was expected to be an appeal against the ruling of Senior Justice Stephen Isaacs to deny her bail ahead of trial.
However, the bail hearing has been stood down indefinitely until Elliot Lockhart, QC, and Murrio Ducille have made the necessary preparations for the application.
The accused was denied bail when initially arraigned on March 30 by Chief Magistrate Joyann Ferguson-Pratt, who did not have the jurisdiction to consider a bond. Her lawyers, though, were able to get a bail hearing in the Supreme Court before the Easter holiday.
Senior Justice Isaacs noted the unusual speed in which the bail application appeared in the Supreme Court.
However, he said that there had been no unreasonable delay in the case nine days after the alleged murder and noted that Mrs Vasyli had not sufficiently satisfied the court that she should be granted bail.
Mr Ducille, who had argued that his client was a fit candidate for bail, was told that he could appeal the ruling to the appellate court.
Nathan Smith, an associate of Mr Ducille, appeared before the appellate court yesterday seeking an adjournment of the proceedings.
"It's not ready?" appellate court president Justice Allen asked.
"We endeavour to be in a position to file submissions by Thursday," said Mr Smith.
"You filed no submissions? Why?" asked Justice Conteh.
"We have certain additions we would like to make to our skeletal arguments," the associate answered.
Justice Allen said that there were not any submissions filed for there to be additions.
"M'lords we just wish to further assist the court," said Mr Smith.
"It's plain that you're not ready to move the application today," Justice Conteh noted.
Crown respondent Neil Braithwaite informed the court that the Attorney General's office did not know of the matter.
"You've not been served?" Justice Allen asked.
Mr Braithwaite said he was not served and when asked if he was seeking a dismissal, he said he would not dismiss the matter given the serious nature of the offence.
"I'm minded to adjourn this sine die," the appellate president told Mr Smith.
She then addressed the accused, saying, "We're adjourning this matter sine die, once your counsel is ready, they'll let us know and we'll put it back on the list."
"Thank you," said Mrs Vasyli before she was handcuffed to await transport the Department of Correctional Services where she is presently remanded.