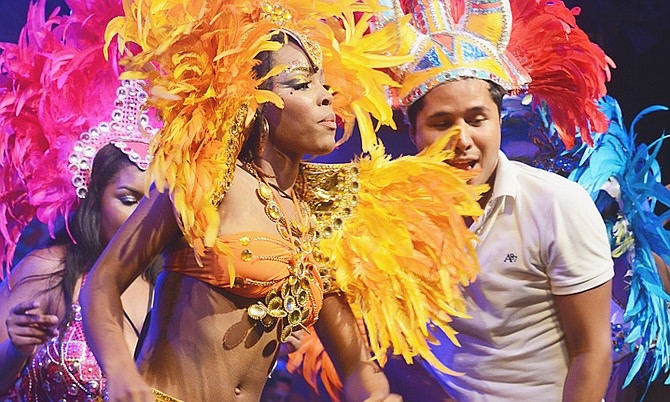 By DENISE MAYCOCK
Tribune Freeport Reporter
dmaycock@tribunemedia.net
THOUSANDS of revellers flocked to Taino Beach for two days of fun and live cultural performances, including the Music Masters semi-finals and All Star-Bahamian concert, as the first Bahamas Junkanoo Carnival got off to a successful start in Grand Bahama.
Grammy nominated T-Connection closed Saturday evening with a spectacular headline performance. Taking the stage after midnight, the disco group grooved the crowd with their many hit songs, including "Saturday Night" and "Do What You Wanna Do".
On Friday's opening night, there was a special song tribute and a moment of silence for Grammy-nominated Bahamian R&B singer Johnny Kemp, who died on Thursday at the age of 55. Kemp – who grew up in Grand Bahama and moved to New York in the late 1970s – rose to fame with the 1988 hit single "Just Got Paid".
Prime Minister Perry Christie, who opened the event, was pleased with the turnout. "Grand Bahama, you demonstrated yet again you are prepared to come out … to show that Grand Bahama is ready to support Junkanoo Carnival."
Taino Beach Cultural Village was teeming with police, security personnel and lifeguards to ensure the safety of visitors and locals. The street and seawall was thronged for the carnival-styled street dancing and junkanoo rush out.

Mr Christie also remembered Gus Cooper, the leader of the Valley Boys, who with Percy "Vola" Francis, the leader of the Saxons Superstars Junkanoo, were strong supporters of the carnival. He also commended the Carnival Commission. "I want to congratulate and thank the Carnival Commission under Paul Major; they have done a hell of job, I am very proud of them."
Obie Wilchcombe, the Tourism Minister, said Junkanoo Carnival is a celebration of Bahamian people and culture. He mentioned that famous Bahamians recording artists like Johnny Kemp and Mr Roberts have put the Bahamas on the international music stage.
"This is a time of celebration and we want to pay tribute to Johnny Kemp who grew up in Grand Bahama with us; we are very proud of him."
Ministry of Youth, Sports and Culture Daniel Johnson said the event in Grand Bahama is a showcase of Bahamian culture at its best. "It is true music, dance, and us as a people – that is what it is all about," he said.
On the first night of the Music Masters semi-finals, Grand Bahama's Terrell Tynes-Wilson rocked the audience with her "Mash Up the Carnival" and "Roll Mama". Ian McQuay's "Going Home," Sonovia Pierre's "Junkanoo is My Carnival" and Angelique Sabrina's "Make Ya Feel Good" were also crowd favourites.
Bahamian artist Avvy, Jay Mitchell, Dyson Knight, D-Mac and Julien Believe represented a mix of old and new vibes, at Friday's All-Star Bahamian concert. Headlining performer Stileet brought non-stop energy to the stage as he performed his hit song "We Raking and Scraping".
The showcase of talent continued on Saturday for the second session of Music Masters semi-finals as Grand Bahama's Georgina Ward performed her "In the Carnival". Sonova Pierre also performed a second song, "Junkanoo Party", Sammi Star sang his "Everybody Join in Da Line" and also performing were Bodine Johnson, Tyrone "Plati" Dread, Puzzle, Colyn McDonald, Val "Sugar" Richards, Khiara Sherman, Raymond Campbell, Chris "Sketch" Carey, Dwayne Simmons and Raj Saunders.

A former official of Trinidad's Carnival Commission was impressed with the organisers of the event. Keston Nancoo, former chairman of the National Carnival Commission in Trinidad, said there is room for improvement, but that it is a great start to a establishing a carnival festival.
"The talent is here … and as you continue to build on what you have, I am of the view that you have a very solid foundation here," he said. "What you need to do is keep building on your junkanoo and allow it to evolve. I think it is a great beginning and I am very proud of your Prime Minister and his commitment and conviction to ensure that this event takes place."
Among the crowd Laurie Rolle said she enjoyed herself. "I came out with friends on Friday and Saturday and we had a ball: the food, music, and entertainment was very good."
Another woman, Pearl, said Taino Beach was the perfect venue. "The performances were very good and they catered to families with children. I am looking forward to Carnival in New Providence, she said.
The 10 finalists making it to the Music Masters Finals in New Providence for Bahamas Junkanoo Carnival on May 7-9 are Sonovia Pierre (Junkanoo Carnival Party), Sammi Star (Everybody Jump in Da Line), Georgina Ward-Rigby (In the Carnival), Colyn McDonald (Jump and Carry On and Carnival is Here), Tyrone "Plati" Dread (Junkanoo Rock), Ian McQuay (Going Home), Erika Symonette (My Islands in the Sun), Chris "Sketch" Carey (Rushing Down the Road) and Bodine Johnson (All Day, All Night).


Photos: Peter Ramsay and Vandyke Hepburn/BIS