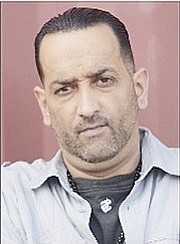 By Inigo 'Naughty' Zenicazelaya
OBSERVATIONS
THIS week I sit in a very unfamiliar place for the second year in a row - outside the NBA playoffs, preparing for the draft, hoping the balls bounce the right way for my beloved Lakers in the lottery.
Hopefully we can begin our return to prominence with a nice piece to build on in the form of a top five draft pick.
One thing I've noticed while in basketball purgatory is the amount of former Miami Heat fans donning Cleveland Cavaliers jerseys. Yes, this is where I lose all respect for these "wannabe fans" - you see, one of the key ingredients of being a real "fan" is being "loyal" to your team.
Win, lose or draw!
Sadly, being the most fickle people on the planet, we Bahamians seemed to have missed the memo in this regard.
Nonetheless, I guess it shows some dedication to being a successful bandwagon jumper, as most of these resurrected Cavaliers jerseys (all with James on their backs) have visible burn marks and an assortment of holes in various places. I'm convinced these "die hard" Cavaliers "fans" knew exactly in which part of the dump to dive to retrieve their lost jerseys, or had it buried in a perfect spot easily recoverable, for moments just like this!
I'm sure those loyal Cavalier "fans" are not the same ones who've been rocking Miami Heat gear the last four seasons prior to this one. I'm sure it's a case of mistaken identity ... Yeah, mistaken identity, that's it!
FYI. To all of the new found Golden State Warriors fans ... nobody believes your stories of longtime fandom for this franchise no matter how many Rick Barry underhand free throws or Tim Hardaway, Chris Mullin, Mitch Richmond "Run TMC" highlights you google. Take it somewhere else!
SCENARIOS
With the NFL draft ready to take place at the end of the month, here's something to keep an eye on, especially if you are an Eagles fan.
As I mentioned in a previous edition of SMM don't be surprised if Chip Kelly works some more magic and lands Heisman Trophy winner Oregon QB Marcus Mariota. It's obvious Kelly, is obsessed with Mariota from his days coaching the talented quarterback at Oregon. Kelly is also a believer in his high powered offence and would be more relaxed and confident in it if Mariota was under contract.
Here's how it gets done:
The Eagles will trade QB Sam Bradford and lower round picks to Cleveland for the no.10 pick. Cleveland gets its QB and Kelly gets his ammunition.
The Eagles will then trade the no.10 and 20 picks to the Tennessee Titans for the no.2 overall pick in the draft to select Mariota and reunite him with Kelly.
Does this mean instant success and division dominance for the Eagles?
No! Not in the least. The Cowboys and Giants have made their own smart off-season free agent signings so nothing is etched in stone.
Another scenario looking like it's going to come to fruition is RB Adrian Peterson (switch in hand and all) is going to be traded.
Peterson's agent Ben Dogra is in the hot seat, having lost clients Trent Cole, Jeremy Maclin and JJ Watt.
Yes, they all fired Dogra!
If he can pull the AP deal off to either the Cowboys or Raiders, he will be able to save face.
In any case AP will have to restructure his contract over the next three years. Nobody, not even Jerry Jones, is paying a 29-year-old running back $12m plus per season.
If this caveat can be negotiated look for AP to be in Dallas for a fourth and seventh round pick in this year's draft.
AP, rocking the Star, running behind the best offensive line in football, making fans say "DeMarco" who? I can't wait!
Anyway until next week be safe, keeping swinging a big stick and may all your balls land fair.
I'm off to review these computer-generated percentages of the Lakers getting the first pick in the NBA draft lottery.
My God, what have I become, or my Lakers for that matter, when our focus and excitement is on the NBA draft lottery?
Oh how the mighty have fallen. I guess I will just stay down until it's time for the Lakers to rise again, I'm not one of those bandwagon jumpers!
Look ... there goes another Cleveland Cavaliers jersey, on a former Heat fan!
• Naughty presents 'Mischief and Mayhem in da AM' on KISS FM 96.1 from 6am to 10am, Monday to Friday.