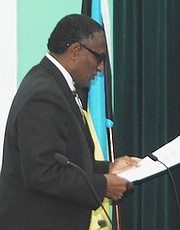 By KHRISNA VIRGIL
Tribune Staff Reporter
kvirgil@tribunemedia.net
MAYAGUANA Administrator Zephaniah Newbold said he is "not concerned" about the backlash surrounding his role in a case involving MICAL MP V Alfred Gray who is accused of allegedly intimidating the administrator to release a teen who had just been sentenced to a prison term.
When asked if he had retained legal representation just as Mr Gray has hired lawyer Wayne Munroe to defend him, Mr Newbold said: "I haven't really been paying attention. I have not been all that concerned."
This comes after a letter from Mr Newbold to Chief Magistrate Joyann Ferguson-Pratt and an affidavit from Mr Gray were leaked to the press. In the letter, Mr Newbold described Mr Gray as "angry" when he called him about Jaquan Charlton, 19 and ordered the teen's release.
Mr Gray has denied the claims, according to his affidavit, which was obtained by The Tribune.
Last week, Mr Munroe said he was hopeful that phone records will help vindicate the embattled Mr Gray from allegations that he used his position of power to interfere with the judicial process.
The island administrator, in a letter sent to Chief Magistrate Ferguson-Pratt, alleged that after sentencing Mr Charlton to three months imprisonment for allegedly assaulting a police officer and resisting arrest, he received a call from an "angry" Mr Gray, ordering him to immediately release Charlton.
Mr Newbold, in a letter obtained by The Tribune, said that Mr Gray abruptly hung up the phone adding that the Cabinet minister later called back and threatened to have him transferred if he failed to heed his order.
Mr Munroe has told The Tribune that this issue could devolve into a case of "he say versus he say" if not for phone records that he believes exposes problems with Administrator Newbold's narrative.
According to Mr Newbold, between the first and second call Mr Gray made to him, he spoke to a police officer identified as Assistant Superintendent T Newbold who then contacted her superiors.
In his affidavit, Mr Gray said he contacted Mr Newbold on March 19, after he got a call from Mr Charlton's mother, Natasha Charlton, his constituent. He said she told him her son had been injured during an altercation with police and thought his arm was broken and wanted Mr Gray's help in securing medical attention for her son.
According to phone records seen by The Tribune, calls from Mr Gray to Mr Newbold took place for about three minutes with a one-minute gap between the first and second call. The first call was one minute long and the second call was two minutes.
In his affidavit, Mr Gray alleges that given this chronology of events, it would not have been possible for the administrator to speak to a prosecutor who then spoke to both a superior and the chief magistrate before speaking again to the administrator.
Police interviewed Mr Gray on the matter on April 10. The file has been transferred to the Office of the Attorney General for review.