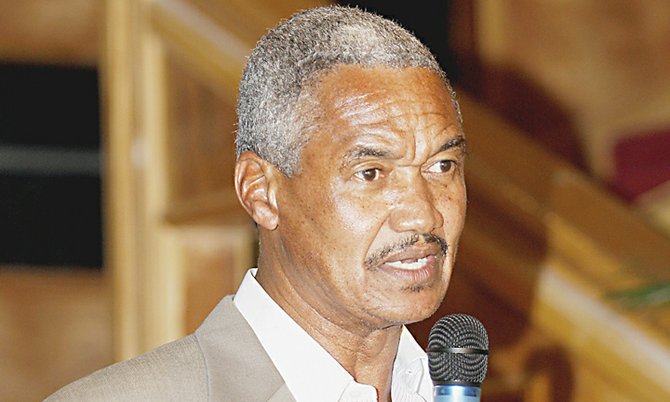 By SANCHESKA BROWN
Tribune Staff Reporter
sbrown@tribunemedia.net
ENGINE failures at both the Blue Hills and Clifton Pier power stations caused an island-wide power outage across New Providence yesterday afternoon, according to Bahamas Electricity Corporation Executive Chairman Leslie Miller.
Speaking with The Tribune, Mr Miller also warned customers to expect disruptions in supply for the next 10 days, as the corporation struggles with "serious issues." This came a day after he initially warned of possible load shedding until next Monday.
Mr Miller urged the government to complete the request for proposal (RFP) process to select a private company to manage BEC so officials there can start to fix the host of problems at the corporation.
"It's like they do not understand the urgency to get BEC fixed," he said. "Why should we be renting generators? Why do we have to go through this over and over?
"We are in serious trouble. We need a new plant, without that I cannot guarantee anything. The power can be on today and go off tonight, nothing is certain. We are going to have to load shed until we can do better."
Mr Miller said BEC's first rental generator is expected to arrive in the capital on Thursday, however, he said, it will "do little" as it only supplies five megawatts of power and the corporation currently has a power generation shortfall of about 30 megawatts.
"This is going to be like this for at least two weeks," Mr Miller said.
"We are currently short by 30 megawatts of power. Now we do have some generators in Freeport and we are trying to get them here but that is still only five megawatts of power. We will get it between now and Friday and put it in the system but that will not solve the problem.
"This is a serious, serious problem we have three engines out at Clifton and two at Blue Hills. The big one at Blue Hills that supplies 21 megawatts of power has been out for about six weeks and they just determined what was wrong with that. But now we have to order a part and that won't get here for 30 to 60 days. The demand is about 205 (megawatts) and we only have about 170 (megawatts), there is really nothing much that can be done right now."
Last week, Mr Miller said the first set of rental generators secured for BEC would arrive over the next few days, reducing the chance of blackouts during the summer months. The generators will be rented for about six months at a cost of $8m.
In August 2013, the government said it planned to split BEC into separate generation and transmission and distribution arms. However, the government later said it had abandoned that idea and is instead moving forward with a business model that mirrors the Nassau Airport Development Company's (NAD) arrangement for Lynden Pindling International Airport's (LPIA) management.
However, Prime Minister Perry Christie has not yet made an official announcement on the matter.