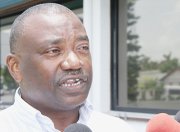 By SANCHESKA BROWN
Tribune Staff Reporter
sbrown@tribunemedia.net
PHENTON Neymour, former minister of state for the environment, said the Bahamian people should hold Bahamas Electricity Corporation Executive Chairman Leslie Miller personally accountable for his "incompetence and arrogance" that led to rolling blackouts over the past few days.
BEC began load shedding in parts of New Providence on Monday, leaving thousands of residents without power for hours at a stretch. This came after engine failures at both Blue Hills and Clifton Pier Power Stations. Mr Miller has said BEC would not be able to meet demand until rental generators arrive in Nassau.
Mr Neymour's comments came after Mr Miller announced on Tuesday that there is "nothing more" the corporation can do to prevent power cuts over the next few days.
"I do not recall BEC, from a generation stand point ever being this bad," Mr Neymour, who was responsible for BEC during the last administration, told The Tribune.
"Mr Miller said they are operating at 174 megawatts that is the lowest it has ever been and is a reflection of lack of maintenance for which Mr Miller is directly responsible.
"If the demand is short now, I cannot imagine what will happen in the summer."
On Tuesday, Mr Miller also warned that some residents would have to go without power to ensure the International Association of Athletics Federations (IAAF) World Relays would have electricity. The event is scheduled for this weekend.
Mr Neymour said it is "unacceptable" for Bahamians to be "left in the dark" in order to keep "the power on" at the National Stadium for the upcoming sporting event.
"It is embarrassing for Mr Miller to say that individuals in the east may have to sweat during the relays, so we are not embarrassed internationally but this is already an embarrassment," Mr Neymour said. "The FNM has had events like this and we had no issues and did not have to go through load shedding. This is a case of incompetence even when the rental generators arrive in time it will not eliminate the problems."
Mr Neymour also said Mr Miller is the "biggest political hypocrite" because he has criticised the former administration for renting generators, then turned around and did the same thing.
"Leslie Miller and the PLP are responsible for the blackout, they cancelled the generators they were ordered by us and failed to maintain the ones at Clifton," Mr Neymour said. "Mr Miller criticised me for renting generating and now look at him again, still using FNM policies."
Mr Miller has said the first set of rental generators secured for BEC would arrive over the next few days, reducing the chance of blackouts during the summer months. The generators will be rented for about six months at a cost of $8m.
A statement released by BEC on Tuesday said temporary generator units supplied by Aggreko, an international company, should be installed and operational within the next four weeks. An initial five megawatts of Aggreko temporary units should be on island within the next few days, the statement added.
"In the interim, BEC expects that there may be periods of supply interruption if customer demand exceeds BEC's existing capacity," BEC said. "The corporation assures the public that it continues to do what it can to limit the duration of supply interruptions and the number of customers impacted. BEC requests its customers' patience as it makes every effort to ensure that present challenges do not persist into and throughout the summer."