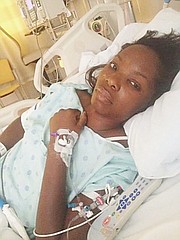 By JEFFARAH GIBSON
Tribune Features Writer
jgibson@tribunemedia.net
WHEN Donaliquea Martin went to be examined by her doctor he could not understand how she was still walking. She had a tumour the size of a grapefruit growing on her spine.
Before discovering the tumour back in 2012, Mrs Martin had no real indication that anything was wrong. She had been experiencing some discomfort in her back and was prescribed medication to help deal with the pain.
"My primary doctor thought that it was just a strained muscle and for a while she was prescribing medication for a strained muscle. All of this occurred several months after I was married in 2011,"
Mrs Martin told Tribune Health.
"Sometime later my husband asked me if I wanted to accompany him to the doctor because he was going to have a physical done. I agreed and I did a physical as well. I told the doctor about the pain I was experiencing in my back. I told him I did X-rays and they did not find anything. In 2012, I went to another doctor and he asked if I would have an MRI and that was when I discovered I had a tumour on my spine."
Mrs Martin was then referred to a neurosurgeon, Dr Magnus Ekedede, for a biopsy. She said Dr Ekedede was also shocked by the size of the tumour and the fact that Mrs Martin was still able to walk with no assistance.
"Right away he started panicking. He kept on saying, 'Oh no, no, no'. I guess he could not believe that this person is standing in the front of him with a tumour that size. While I am looking at the slide of my spine he asked me, 'Do you see this?" He was really shocked and he could not hide his emotions. Then he asked, 'What do you do for a living', and I told him I am a cosmetologist. He said, 'That's it, no more work.'
"Because of the size of the tumour I was supposed to be paralysed from the waist down. So my walking was defying the laws of nature and that was basically what he was saying. The tumour had completely consumed the T10 bone (10th thoracic vertebrae) ," she said.
Mrs Martin said she was immediately placed on steroids to stunt the growth of the tumour.
"Dr Ekedede told me that I may also have to undergo surgery to remove the tumour if it could not be shrank. And because surgery was necessary, he suggested that we research some facilities abroad, because that type of surgery could not be performed in the Bahamas," she said.
In the meantime, Mrs Martin underwent radiation therapy which gave her some relief from the pain. However, the pain eventually became more and more intense, and by December 2012 the tumour had grown to the size of a grapefruit.
"The type of tumour does not respond to chemotherapy or radiation therapy, even though I had radiation here in the Bahamas. The radiation caused a bit more issues, because radiation fries everything good and bad tissue, so it also became difficult to distinguish between good and bad tissue," she said.
The journey for the newlywed Mrs Martin and husband was just starting. They began their quest for a facility that a had a proven track record of performing the surgery Mrs Martin was a in dire need of.
Several major facilities that are famous for spinal surgeries were unable to operate on Mrs Martin because her case was "out of their scope of work".
"A lot of them were afraid to touch me really. A lot of them really thought that I would have been paralysed by now and in a wheelchair because I was like one of those hopeless situations," she said.
"Eventually we ended up at Cancer Treatment Centers in Philadelphia, and I was about to go into surgery there, and they were astonished. We had doctors who kept on peeping in the room because they just could not believe this person who had a tumour this size of a grapefruit was doing fine and had all of the lower extremities working. When the surgeon at Cancer Treatment Centers looked at my slides he was also in complete shock. He said, 'Look at this, this is huge. This tumour is the size of a grapefruit and your spinal cord is completely crushed. There was no fluid flowing to your lower extremities.' He said, 'This is impossible'. He began hitting my legs and he asked if I was feeling any pain, any tingling, any burning, and like I said, the only thing I had was slight pains in my back.
"But me and my husband were just sitting their blank because we did not know what to say. But there was a joy inside of me, because with me and my husband having a relationship with God, we knew it could have only been God that had been keeping me all this time."
Though the doctor at Cancer Treatment Centers was capable of performing the surgery, he recommended the couple to a colleague of his at John Hopkins Hospital in Baltimore, Maryland.
"They purchased our tickets immediately and we saw the Lord opened doors through and through. Four days later we got a call from the doctor. He said they looked at my case and his colleagues studied it and they said they believe they can help me. So they prepped me for the surgery," Mrs Martin said.
"One of the most rewarding things for me was after the surgery when the surgeon stretched out his two hands and said, 'I was talking to my wife last night and I don't know if you are spiritual people, but I cannot take any credit for what happened in that operating room. There was a higher power at work in there. These hands were just being used'."
The tumour had been removed and Mrs Martin was completely cured.
To date, she said, experts cannot clearly define the type of tumour she had other than it had only few properties in common with a salivary gland tumour. Her case, according to doctors, is one out of three or four ever recorded worldwide. Mrs Martin's case will be used for an in-depth study at the John Hopkins University.
Mrs Martin, who is also a liturgical dancer, inspired others with her testimony at a special dance benefit event held last week by the Sapphire International Girls Club. The event was hosted to assist Mrs Martin with her medical expenses, which amount to $500,000.
"I am just so humbled by Sapphire's initiative. When they brought it to me I cried and my husband and I were very moved by it all," she said.
"Through it all I thank God for my husband. Considering we had just gotten married and after the wedding people would be thinking about a honeymoon and the 'for better or worse' vows that we made. Unfortunately, for us the worse came first, so whatever plans we had there was a big wall. But he was very diligent and very involved in searching for information and the hospitals, and he was there for me every step of the way."