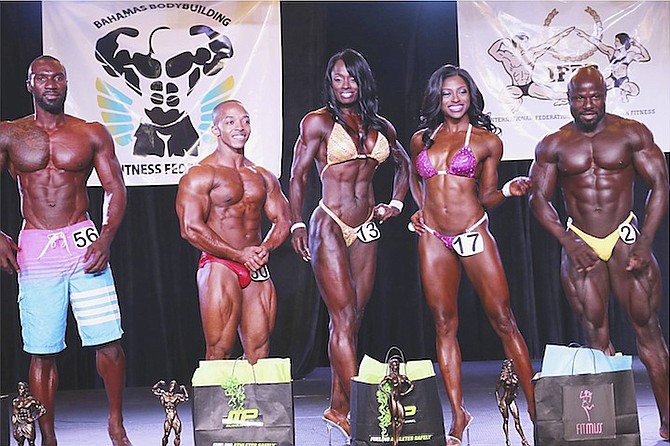 By BRENT STUBBS
Senior Sports Reporter
bstubbs@tribunemedia.net
FROM the huge amount of participants to the jam-packed room of spectators, newly elected president Joel Stubbs said he couldn't ask for a better debut as the Bahamas Bodybuilding and Fitness Federation's National Championships turned out to be a huge success.
Despite the fact that they got started a little later than anticipated, Stubbs said his executive team was able to overcome all the obstacles and ended up having a great event.
"We didn't start on time. We really wanted to push out the blocks exactly at 7pm, but one of two small things we had to deal with, including a long line of spectators and so we wanted them to get on the inside so they could see the competition from the beginning," Stubbs said.
"We also had one or two small hiccups with some of the paperwork, but in all of it, we were able to get the show started and once it did, everything was flowing there after."
Stubbs, a former national heavyweight champion who went on to earn his professional card, said he was happy to see the number of competitors who participated.
From the more than 40 competitors, Amy Sands captured the overall bikini title, Lakeisha Miller took the physique crown, Endierich Brown won the Mr Physique title and Jimmy Norius carted off the Mr Bahamas bodybuilding title.
"We knew that from day one when we took over, we had the support of the fans and at the end of the day, I knew if I could get a good team to work with me, with the experience I have from competing and what they bring to the table, I know we would have been able to pull this off and even get more of the fans to come back out," said Stubbs, who got some assistance during the awards presentation from his guest, IFBB pro Frank Roberson.
And although they will take a day or two off to recuperate, Stubbs said his executives will be meeting this week to continue to prepare for the hosting of the Central American and Caribbean Bodybuilding Championships at the Atlantis resort on Paradise Island September 24-27.
"Before we blink our eyes, it will be here, so we have to work on our plan of action for the CAC," Stubbs said. "A lot of the countries have been making their inquiries at the host hotel and with 41 countries in our region, if we can get at least 35 of them to come with full teams to our shores, this will be a big boost to our country."
Vice president Kenny Mackey said they were blessed to have been able to pull off a very successful show.
"We can see that bodybuilding and fitness has been revitalised and people are excited about what is taking place with the new executive team headed by our president, Joel Stubbs," Mackey said. "They are very enthused and they look forward with great hope and anticipation that they will be entertained when they attend our shows and the athletes are very pleased to know that they will get a fair assessment and judgment from our judges and the show is being ran efficiently to international standards."
With the Bahamas hosting the CAC Championships next month, Greene said they are looking forward to raising the bar even higher.
The Ministry of Youth, Sports and Culture was the major sponsor for the nationals and they were joined by BTC and all the health and fitness houses, who also came on board to make the show a success, not just for the participants, but the spectators at large.