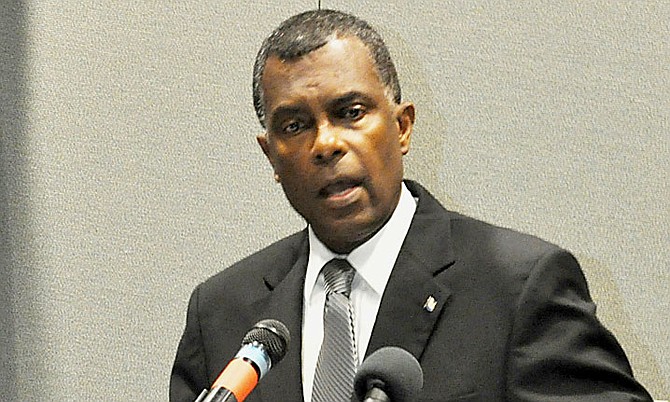 PRIME Minister Perry Christie and Minister of Foreign Affairs and Immigration Fred Mitchell both stressed the importance of respecting the Office of the Prime Minister yesterday, in a veiled reference to controversial statements made by Baha Mar CEO Sarkis Izmirlian.
"I want to say that the prime minister is the holder of the most important executive office in this country," Mr Mitchell said at a ceremony to celebrate the Fox Hill Day.
"In that, he is the defender of all the power and majesty that is reposed in the Bahamian state.
"No one should disrespect him. You would notice that when the prime minister enters the room, we all stand, there is only one office for which that honour is afforded and as a matter of protocol to the governor general."
Speaking after Mr Mitchell, Mr Christie echoed his sentiments.
"He is right in that regard, when he speaks about the respect for the Office of the Prime Minister, sometimes we forget it is not the individual we are talking about, we are talking about the office that person holds. And that person could be the pastor of the church, it's the office the pastor has that will be passed on to eternity where other individuals will come in and hold that office and for the good order of our country whether it's in the church, in the school, whether it's the prime minister, respect, respect, respect."
Their statements came about a week after Mr Mitchell criticised Mr Izmirlian for what he termed were "attacks" on Mr Christie and his unacceptable behaviour as an "economic guest" in this country.
Last week, while speaking at an Emancipation Day event, Mr Mitchell also warned Mr Izmirlian that his permanent residency status could be revoked.
Days later, Minister of Labour Shane Gibson defended Mr Mitchell's stance and went further – suggesting that psychological evaluations should become standard for all foreign investors seeking to do business in this country.
Mr Izmirlian and the Christie administration have been at odds since his resort filed for bankruptcy in the United States in June.
The government has since filed a winding up petition in the Supreme Court to have liquidators appointed to oversee the $3.5 billion property and take it out of the control of the developer.
Mr Izmirlian has lashed out at the government in recent weeks, most notably calling the Christie administration's decision not to pay Baha Mar's expatriate workers their salaries "deplorable." The government has paid the wages for the resort's Bahamian workers since the property filed for bankruptcy.
Mr Izmirlian has also said the project has been "usurped" for political reasons and that it is his opinion that Mr Christie is not doing what is best for the country as it relates to the resort.

The Supreme Court will hear the government's winding up petition on August 19.