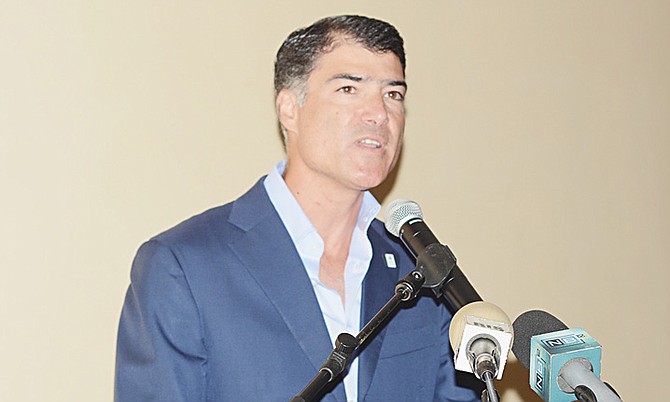 By AVA TURNQUEST
Tribune Chief Reporter
aturnquest@
tribunemedia.net
DIRECTOR of Labour Robert Farquharson yesterday said the only complaints made in reference to Baha Mar CEO Sarkis Izmirlian to his department were trade disputes in relation to the resort's Meliá Nassau Beach property.
Mr Farquharson said the complaints were made against the management of Meliá, and not directly against Mr Izmirlian.
He was tightlipped over the nature of the trade disputes, however, he said that the Labour Department had started the conciliation process with attorneys from the resort's senior management team.
Mr Farquharson was responding to questions from The Tribune concerning an investigation ordered by Ministry of Foreign Affairs and Immigration Fred Mitchell.
Last week, Mr Mitchell told The Nassau Guardian that he had ordered a closer look at Mr Izmirlian's "file" due to complaints about his "conduct in the country".
However, he refused to clarify further when contacted by The Tribune.
On Sunday, Baha Mar declined to comment on the revelation that its developer, Sarkis Izmirlian, was under investigation by Mr Mitchell.
In response to questions from The Tribune a resort spokesperson said: "Baha Mar is focused on doing all it realistically can to have the resort's construction completed properly and opened successfully as soon as possible.
"Baha Mar is not going to comment on Minister Mitchell's statements."
Yesterday, Mr Farquharson said he was unaware of Mr Mitchell's comments or of such an investigation.
"The Department of Labour is presently addressing a number of trade disputes in relation to the Meliá property and management of the Meliá," he said.
"We have begun the process of conciliation and met with both attorneys of senior management team of Meliá."
Bahamas Hotel, Catering and Allied Workers Union (BHCAWU) Secretary General Darren Woods confirmed yesterday that its trade dispute with Meliá involved the resort's refusal to meet with the union on the grounds that it was not a recognised bargaining agent.
Meliá has maintained that the absence of a valid industrial agreement with the Bahamas Hotel and Restaurant Employers Association, coupled with recent court rulings, evidenced that there was no statutory obligation for it to meet with the BHCAWU.