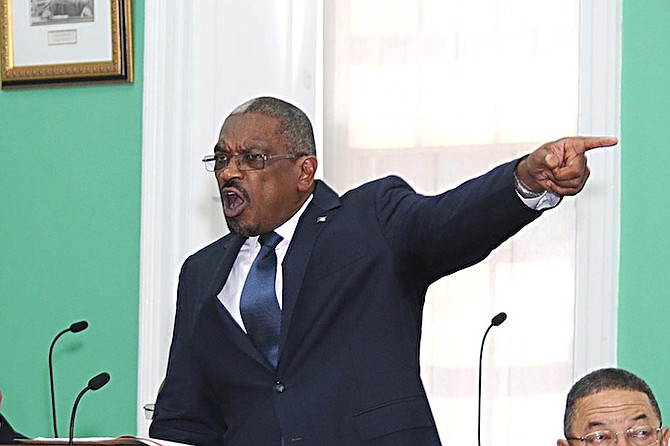 By NICO SCAVELLA
Tribune Staff Reporter
nscavella@tribunemedia.net
FREE National Movement Leader Dr Hubert Minnis yesterday called for hanging to be carried out in the country, along with the introduction of a gunfire detection system and the use of drones to aid the Royal Bahamas Police Force in fighting crime.
Dr Minnis said he is "not prepared to sit idly by" and allow criminals to "continue killing each other without trying with every fibre of my being to stop the carnage."
Also stressing that the confiscation of illegal firearms "must be priority number one," Dr Minnis called for a "community revolution," in which churches, the police and others would join forces in an effort to remove illegal guns from the hands of "our misguided sons."
Dr Minnis' comments came hours after a man was shot dead yesterday morning outside a home on Burial Ground Corner, marking the country's 94th homicide for the year.
The death was the third in four days this week.
Despite the increasing violence, and the likelihood that this year's murder count will surpass 2014's, government officials have been relatively silent on the matter.
Yesterday, however, Dr Minnis provided The Tribune with his methods for tackling the country's crime problems.
"As hanging is on our books, we must hang," he told The Tribune. "The laws must be enforced and hanging must be done."
He added: "I am not prepared to sit idly by and allow them to continue killing each other without trying with every fibre of my being to stop the carnage. I will not surrender to apathy or hopelessness. The nation is tired of talk. No more talk. Now it's time for action. Too much blood is flowing through our streets."
Dr Minnis also called for the government to explore other crime fighting strategies, adding that the removal of illegal firearms from the streets "must be priority number one."
"Some solutions the government must look at, we must have a community revolution with involvement of the churches and assistance of all their programmes," he said. "We must extend counselling to the victims' families and extended families so as not to allow contained rage and anger to manifest itself at some later date. We must introduce gunshot detection systems, which would allow within seconds, detection from where a gun is fired. We must have cars stationed within these areas so as to have quick and immediate response. We must accelerate our regulations for drones."
He added: "The government has failed us. They have lied to us in terms of them having resolutions for crime. Our nation is in crisis. If we are to survive and try to tackle the hard problems, including the growing spirit of crime, we must lead by example. We cannot send mixed messages, for example, the Attorney General (Allyson Maynard-Gibson) in a conflict of interest and the Alfred Gray matter.
"I would like to invite every community-based citizen, the commissioner of police, every district commander in the RBPF, the president of the Christian Council and other religious leaders to join me in going to each and every neighbourhood in New Providence, house to house, especially the inner cities to convince our misguided sons engaged in criminal activities to give up their guns."
"If they are all serious about crime, then let's walk in and ask for the guns. Let's move in and show them that we care. We want to assist and move our country forward."
Despite being a punishment for murder, there hasn't been a hanging in the Bahamas since David Mitchell met his fate at the gallows on January 6, 2000.
Various landmark rulings of the London-based Privy Council, this country's highest court of appeal, have made it increasingly difficult to carry out capital punishment.
The Bahamas hanged 50 men since 1929, according to records kept at the Bahamas Department of Correctional Services, formerly Her Majesty's Prisons.
Five of them were hanged under previous Ingraham administrations; 13 were hanged under the 25-year rule of the Pindling government; and the others were executed between 1929 and 1967.
Currently standing at 94, this year's murder count is likely to outpace 2014's year-end figure of 123.
According to The Tribune's calculations, homicides have increased by 24 per cent compared to this period last year. As of August 12, 2014, the country had recorded 76 murders.
The bloodiest months for this year so far have been February and July with 15 murders each, according to The Tribune's records.
This newspaper's records also show that there were 14 homicides in May, 12 in both March and April and 10 homicides in January.
Last year, the country hit 100 murders in November.
Recent attempts by The Tribune to get National Security Minister Dr Bernard Nottage to comment on crime have been unsuccessful.