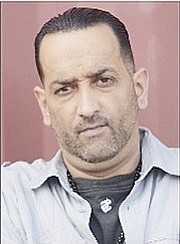 By Inigo 'Naughty' Zenicazelaya
THIS week we look at one of the stronger divisions in football, the NFC East and get you Fantasy Football GMs some pre-draft tips.
In any case, possibly four of these teams out of these two divisions will make the playoffs and do some damage in the post season.
I really shouldn't be writing this as you all know who I like here. But let's have a closer look anyway.
DALLAS
COWBOYS
DeMarco who?
Despite much of the noise and rumours in the off-season I stood strong in my belief that Joseph Randall could replace DeMarco Murray as lead back in the Cowboys offence.
Don't get me wrong: Murray is an extremely athletic and talented back. However, I feel he was more a product of running behind the best offensive line in football. In short order we will see if my theory holds true.
I like Randall to have break out year, I'm thinking 1,200 yards rushing and about eight to ten touchdowns. He's also a excellent receiver out of the backfield so his upside is huge and unlike Murray, Randall doesn't fumble.
Once he can stay healthy, Darren McFadden (a solid veteran reserve still capable of playing at a high level if Randall can't make the grade) can also be a major contributor in a change of pace role along with third down back, Lance Dunbar.
Tony Romo, who is fully healthy, along with a happy and paid Dez Bryant, add Jason Witten, Terrance Williams and Cole Beasley to the mix and offensive co-ordinator Scott Linehan has many ways to score and control the clock. This Cowboys offence should put up big numbers.
Last season the defence improved. Seeing how it was hot last in 2013, that doesn't say much.
This season's defensive co-ordinator has his kind of players ready to make a statement.
He should: he's got tons of talent on defence to work with now, with the additions of Greg Hardy, Byron Jones, Randy Gregory, Damien Wilson and Corey White.
Along with the healthy returns of Sean Lee and Morris Claiborne, this unit should be much improved again.
The Special Teams unit is at a great loss with the departure of Dwayne Harris to the New York Giants in free agency. The heir apparent seems to be free agent receiver Lucky Whithead. The jury is still out here. The saving grace for the unit is kicker Dan Bailey, who's pretty much automatic.
I see the Cowboys 12-4 division champions and strong contender in the playoffs.
NEW YORK
GIANTS
Offensively the Giants should be tough - and they may have the best group of receivers in the NFL.
Odell Beckham Jr, Victor Cruz, Ruben Randall, Dwayne Harris and James Jones. Look for a lot of four-receiver sets this season out of the Giants; hopefully it will help a somewhat inconsistent running game.
Despite this, the Giants will put up points through the air and score some points. Consistency is key to this unit. If they are consistent they can do well: if not, well we've seen that show already.
The defensive unit is a work in progress and despite looking to improve it has suffered from setbacks like I've never seen before. Including star DT Jason Pierre Paul blowing off two fingers in a fireworks accident. Brandon Merrieweather was signed to add depth at Safety with the departure of Antrell Rolle: I don't think that's going to turn the unit around. It will improve but it will also be the Giants undoing in some games.
I see the Giants improving from last years disappointments to the 10-6 neighbourhood and being a tough out in the division, while vying for a wild card spot in the post-season.
PHILADELPHIA
EAGLES
Addition by subtraction is all I can say about this Eagles team, Chip Kelly is going to do it his way or bust.
We all know about the trades, the cuts, the free agent signings. Players are in and out of Philadelphia like Israelites out of Egypt in the Bible.
I can't do a position or unit breakdown because Chip's trading them as I type so all I can say is Eagles 11-5 fighting for the division title and playoff berth to the wire or it could all blow up in Chip's face and they go 5-11 and get nothing but unbrotherly love from the home crowd in Philadelphia.
Yup I hedged my bets there, so let's move on.
WASHINGTON
REDSKINS
I think Jay Gruden gets the 'Skins off the skids this season. The offensive line has been rebuilt, RB Alfred Morris is healthy as is QB RG111 (allegedly he's always injured somehow) and WRs DeSean Jackson and Pierre Garçon are poised to have big years provided RG111 can remain healthy, accurate, poised and consistent while directing the offence.
If he does, this unit will be explosive.
If RG111 remains inconsistent and turnover prone then it's going to get ugly, both on the field and in the media and they will be calling for a certain corn rowed QB's head.
The defence was a solid unit last year until injuries got the best of them. Key Free Agent additions DT Terrence Knighton from Denver, CB Chris Culliver from San Francisco along with DL Stephen Paea from Chicago and DE Ricky Jean Francois from the Colts have this unit vastly improved with a nasty streak to go along with it.
I see the Redskins improving immensely on the strength of new additions and a last place schedule.
They will be a tough out and even a spoiler in the division. I think, in the long run, the strained relationship between Gruden and RG111 will be the poison pill for the 'Skins catching up to them in the long run as they hold on for 8-8 after flirting with the playoffs and the hard-to-get-to 10-win mark.
FANTASY
FOOTBALL
INSIDE SCOOP
Buyer beware on Houston RB Arrien Foster, who's still recovering from groin surgery that hampered him and rendered him a mid-game scratch on several occasions, as well as missing three games last season in what was an otherwise stellar season - 1,246 yards rushing with eight touchdowns.
I suggest drafting his backup Alfred Blue in the later rounds if you happen not to be able to resist and still take the flier on Foster who won't be back until at least week three of the NFL season.
Blue rushed for 59 yards on nine carries in Houston's pre-season opener and is comfortable in the role as the starter, having filled in for Foster last year.
The other option would be to get a stud WR or two early and nab one of the 'Sleeper' backs like Joseph Randall DAL, Lamar Miller MIA, Amir Abdullah DET and Devin Freeman ATL just to name a few.
Until next week, keep swinging for the fences!
• Inigo 'Naughty' Zenicazelaya presents 'Mischief and Mayhem in da AM' on KISS FM 96.1 from 6am to 10am, Monday to Friday. Comments and questions to naughty@tribunemedia.net