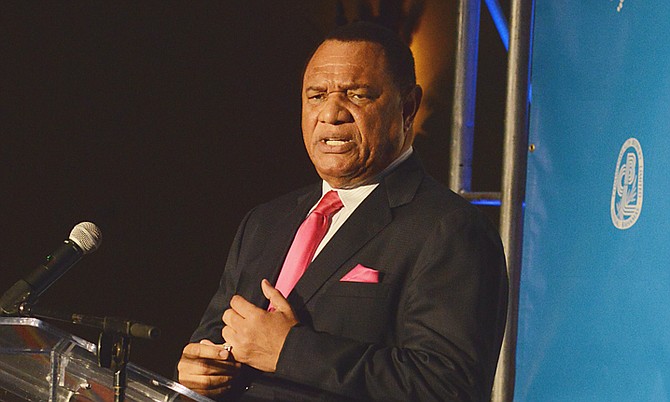 By KHRISNA VIRGIL
Tribune Staff Reporter
kvirgil@tribunemedia.net
IF THE Supreme Court decides to appoint a provisional liquidator today to take over the Baha Mar case, the government will be faced with a "different kind of situation", Prime Minister Perry Christie said as he recalled his administration's prior hopes that Baha Mar CEO Sarkis Izmirlian "would not just allow the resort to go".
The nation's leader also defended his decision to ask Minister of State for Legal Affairs Damian Gomez to step down as the government's lead attorney in the $3.5bn resort's legal battle insisting that it was important for people to see the ongoing process in the court as independent of the government's interference.
Justice Ian Winder is set to hear arguments on the government's winding up petition against Baha Mar in the Supreme Court today.
"What we were hoping all along," Mr Christie said in an interview broadcast on ZNS, "is that the developer who put so much effort into the product itself having, 97 per cent completed it, would not just allow it to go. But he would instead find some way of accommodating himself to the requirements of the China Export Import Bank and the construction company."
The EXIM bank is the project's main financial backer. China Construction America is the resort's general contractor.
"It will then obviously be whether the court decides whether a provisional liquidator will be appointed and if a provisional liquidator is appointed then it is a different kind of situation with Baha Mar."
In July, the government announced its decision to file an involuntary winding up petition against the 14 Bahamian incorporated companies that make up Baha Mar in the Supreme Court. The decision came after the resort's developer filed for Chapter 11 bankruptcy in the US in June.
At the time, Mr Christie said that the role of the liquidators will be to expedite the resolution of this matter and to prepare a plan for the restructuring of Baha Mar which is expected to result in the earliest possible completion and opening of the project.
He said the Bahamian court is familiar with using the provisional liquidation procedure as an effective tool to reorganise a company's affairs.
On July 31, a previous hearing into the winding up petition was adjourned after it was revealed that Baha Mar's general contractor expressed reservations about the personnel who were initially eyed to serve as provisional liquidators for Baha Mar.
It was revealed in court that China Construction America (CCA), in a letter sent to the Office of the Attorney General from PriceWaterhouseCoopers (PwC) Bahamas, contested the appointment of three PwC professionals to serve as Baha Mar's provisional liquidators.
It has been reported that the government has already approached three professionals from Ernst and Young (Bahamas) - Michele Thompson, Roy Bailey and Karen Hutchinson - as potential replacements for the PwC professionals.