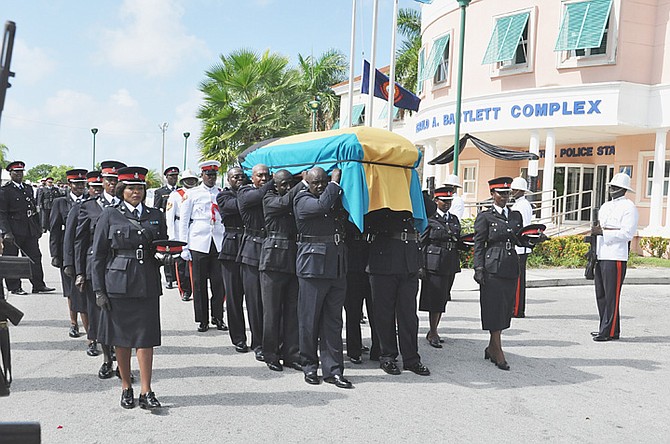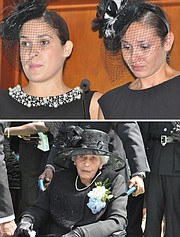 By DENISE MAYCOCK
Tribune Freeport Reporter
dmaycock@tribunemedia.net
SIR Albert Miller was laid to rest with full military honours in Freeport on Saturday, with the nation's leaders, his family, friends, and many well wishers looking on as his flag-draped coffin was lifted and carried to its final resting place, just outside the church where he was a faithful member for many years.
Following a lengthy funeral service, scores of mourners gathered outside the Pro-Cathedral of Christ the King for the procession of Sir Albert's casket, which was carried by eight senior police officers to a quiet, secluded area for his interment in the churchyard.
The former deputy police commissioner, who served 28 years in the Royal Bahamas Police Force, was given a gun salute and a single police trumpeter played the "Last Post."
Sir Albert died at his home in Freeport on August 18, aged 89. He was remembered as a man of humble beginnings who rose to "greatness" in the police force and later in business and as a prominent leader in the development of Freeport.
He joined the police force at 18 in 1943, and resigned in 1971 when he accepted the appointment as vice president of Bahamas Amusements Ltd, operators of Monte Carlo Casino and El Casino. Five years later, he was the first Bahamian citizen appointed to the post of president of the Grand Bahama Port Authority, a post he held for almost 30 years, and was subsequently appointed co-chairman in 1998.
As a testament of his accomplishments and outstanding contribution to his country, he was knighted in 2002. He was also awarded the honour of Member of the British Empire (MBE); and the Lieutenant of the Royal Victorian Order (LVO); and received the Queen's Police Medal (QPM), and the Colonial Police Medal (CPM), among other national and local awards.
Leading the tributes before the packed church were Sir Albert's granddaughters, Melinda Tucker and Ashley Miller-Fry. Both women recalled their fondest memories as young girls of time spent with "Pa" on fishing trips to Chub Cay, later having a meal with the day's catch and falling asleep.
"How do you put into words a man who did so many things for so many people – he was a loving husband to his beautiful wife of 66 years; a devoted father to their three children; an affectionate grandfather and great grandfather; a stellar businessman, and a loyal friend," they said.
Former Governor General Sir Orville Turnquest described his friend of 70 years, Sir Albert, as "one of the most outstanding citizens of Grand Bahama, and indeed of this entire nation".
"Today we celebrate the life of Sir Albert. Indeed, he was my very good friend … Albert Miller was a leader," he said.
Sir Albert was born in the small settlement of McKann's, Long Island, on February 23, 1926. His parents died when he was young and he was raised by his sister, Florrie, "the only mother he ever knew".

Sir Orville and Sir Albert first met as teenagers in Nassau. They became lifelong friends and were business partners in several ventures.

"He was seeking employment when he came and eventually decided to become a member of Bahamas Police Force, as it was then called," Sir Orville recalled. "He trained as a policeman, a peacekeeper and protector to the people, and he moved up the ranks."
The important lessons learned on the police force, Sir Orville said, were extreme discipline and service, which were qualities that Sir Albert exhibited and underpinned his success in life. "He played such an important part in building Freeport, and was widely known for his business acumen," said Sir Orville.
Prime Minister Perry Christie said Sir Albert was called on for advice by the country's three prime ministers – himself, Hubert Ingraham and Sir Lynden Pindling.
"We celebrate a life that was blessed with long years and marked by devoted service to the country, to his family, and to the institutions both public and private that he served so loyally during his long and fruitful life," Mr Christie said.
"Sir Albert Miller was truly a great man and an authentic great Bahamian. He was a man of character, a man of courage and conviction; a man of dedication, generosity, kindness, loyalty, and of service."
The prime minister noted that Sir Albert was always keen to extend a helping hand to those who needed it, especially young and promising Bahamians without financial resources to further their education or to launch their careers.
"Sir Albert helped many persons and he never hogged up his wealth, he shared it with others and not only was his family generously provided for, but so many others, especially here in Grand Bahama would had been able to share in the fruits of his material blessings as well. He never spoke of his generosity; most of it he did anonymously… not seeking recognition or reward for what he was doing – he never sought anything in return. The personal sacrifice of knowing that he was using his material resources to be of help to those in need seem to be quite sufficient," said Mr Christie.
The prime minister said Sir Albert was a "powerful example" and inspiration to many.
"As a policeman and as a businessman, he demonstrated enormous courage. He demonstrated skill and talent, dedication, loyalty and a sense of service.

"Just as he had risen through the ranks from constable in his teens, to the exalted post of deputy commissioner of police when he retired, he was also subsequently able to climb the ranks of the Grand Bahama Port Authority to attain one of the highest posts culminating his appointment as president, and later as co-chairman," Mr Christie said.
Mr Christie said Sir Albert was not one to settle for second best.
As a top businessman, he will be remembered as a true enduring inspiration to those who worked with him and remembered as well by the wider community.
"It would be remiss of me if I did not on this solemn occasion express the gratitude of government and the people of the Bahamas for the contribution that Albert Miller made over the course of decades to help keep the people of the Bahamas safe," the prime minister said.
Mr Christie said the nation is indebted to Sir Albert for the personal sacrifices that he undertook in the service of the Bahamian people.
"He was a man extraordinaire. I therefore, extend sincere thanks also on behalf of the nation for his achievement as a leading figure in the development of Freeport."
"He was a man of great insight who was able to impart advice to top foreign executives of the Port Authority (the late Sir Jack Hayward and Edward St George) and his achievement cannot be underestimated. I am personally indebted to him for his advice," the prime minister said.
Reverend Laish Boyd, bishop of the Anglican Diocese of the Bahamas and the Turks and Caicos Islands, delivered the sermon.
He called Sir Albert a great Bahamian who emerged from "humble beginnings in Long Island" to great success.
Archdeacon Harry Bain said Sir Albert was a faithful member of the Pro-Cathedral of Christ the King Church and had given generously to the church.
Sir Albert is survived by his wife, Lady Laurie Miller nee Gibbs, and their three children, Russell and Anthony Miller and Deborah Archer and many other relatives.