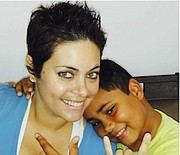 By BIANCA CARTER
Don't blink! Christmas will be here sooner than you know it.

I can't believe how fast time flies. I suppose our chronic busyness doesn't help with that.
But if ever there was a time you could choose to relax and live in the moment more, it should be now. Christmas is a time for family togetherness and love, or at least it should be.

It can be quite difficult to be at peace this time of the year with so much going on; the hustle and bustle of Christmas can cause people stress. The way around all of the stress and anxiety is to have a game plan: a carefully thought out, written down plan leading up to the day.

This will make sure you stay organised (which is part of the reason people are stressed) and accomplish what you want this holiday season. Here are a few things to do before Christmas:
Write your list and
check it twice.
Start a list of people that you would like to gift this year, and add your thoughts on what to give them. This will make sure that you don't forget anyone and that you don't over spend. It's good to have a budget too. This comes in handy when buying for your kids, although piece count seems to be more important to most of them.
Bring out the
advent calendars
By December 1, you should have your calendar out and ready to go. The advent calendars are a fun way to count down the days until Christmas. Traditionally, it is a basic paper-made count down, typically a flap over each date that you list to reveal the date you are on.

Nowadays, the advent calendar can be used to offer Christmas treats each day leading up to Christmas.

Some people wrap 25 little gifts for the kids to open each day or have activities and sweets randomly placed on different days. The kids really love this one. It can also help the adults get in the mood - bah humbug!

Plan your menu and do
a trial run if necessary
For some of you awesome cooks, this won't apply. Maybe the trial is not necessary for people that always bring the same dish to the family Christmas dinner, but if you've decided to try something new, give yourself time to test it first.

Seriously, who doesn't like being the taste tester?

Leftovers are good but planning out the menu will make sure that you don't feed the 5,000 for a dinner of 10. No one wants to be slaving over a hot stove for hours on end on Christmas Day.
Don't forget to rest

There are many parties and events going on around Christmas, so it's important to pace yourself and try to get in some quiet time before the New Year.

This is the season for over-indulging in everything, so plan on taking it easy when you can.

Learn to say no. A lot of the reason people experience stress and anxiety during Christmas is because they don't know how to say no. People put all kinds of unnecessary pressure and unrealistic expectations on themselves.
Christmas doesn't have to be perfect: nothing's perfect in life and that's beautiful. If we had to live up to perfection, we'd all fail. You don't have to work yourself up to a certain level or expectation for anyone, not even your family.

Set your limits, budgets, goals and agenda. If it doesn't fall into the plan, you don't need it. One more dish, one more gift, one more party to attend or host is not worth your stress. Do what makes you comfortable and don't be afraid to tap-out this holiday. It's about having fun and being happy with the people that you love.
Need an advent calendar idea? Check out our blog post for some cool ideas. We'd love to hear from you, too. Visit out our blog http://babybunintheoven.com/blog and post your comments there.
Love & Hugs!
• Bianca Carter is a Certified Lactation Counselor (CLC), Founder of Bun in the Oven and weekend radio personality on Y98 FM radio. For more information, email her at info@babybunintheoven.com, or bcarter@tribunemedia.net. Follow BITO on Facebook at babybunintheoven, and check out the BITO blog every Monday & Thursday at http://babybunintheoven.com