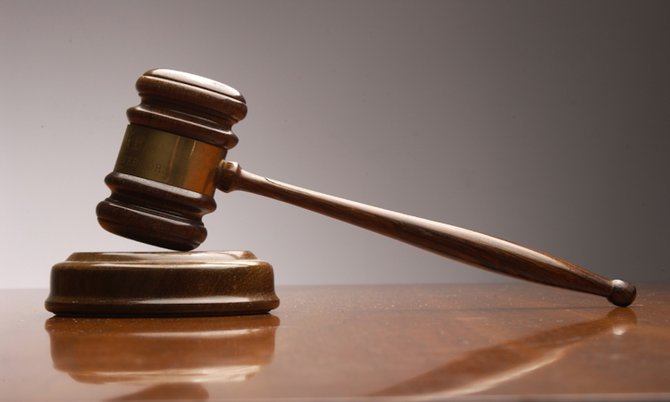 By LAMECH JOHNSON
Tribune Staff Reporter
ljohnson@tribunemedia.net
A 9MM Luger pistol believed to be the weapon used to kill a prominent businessman in Gambier Village two years was exhibited as evidence on Friday in a murder trial in Supreme Court.
Prosecutor Roger Thompson, who is presenting evidence concerning the October 24, 2013 killing of Kurt McCartney, was questioning Assistant Superintendent of Police Kendal Smith about the weapon handed to him by businessman and community activist Terry Delancy at an anti-crime symposium hosted by the Kemp Road Urban Renewal days after the incident.
Delancy is on trial for being an accessory to the murder after the fact. He has denied the allegation at his trial before Acting Chief Justice Stephen Isaacs.
Thorne Edwards, Okell Farrington, Sumya Ingraham and Lyndera Curry are on trial for McCartney's murder and armed robbery at Gambier Village. They have also denied the allegations.
It is alleged that Edwards shot McCartney in the face after he became involved in an argument between Curry and McCartney. McCartney was crushed when Farrington, Ingraham and Curry allegedly rolled over his body as they fled the scene in his Hummer.
On Thursday, the jury had heard from Senior Firearms Technician Tereah Albury, a police constable, who testified that she received, from a colleague, a sealed transparent plastic bag containing firearms exhibits.
The exhibits were a 9mm Luger pistol and a detachable box magazine, both of which she found to be of satisfactory mechanical use upon examination for chambering and discharging capabilities.
Ian Cargill, Delancy's lawyer, asked the witness if the package contained any ammunition. She said no and that she could not speak to whether fingerprints were found on the item.
On Friday Assistant Superintendent of Police Earl Thompson said that on October 26, 2013, he received a fired cartridge case from a colleague which he examined. It was found to be of 9mm Luger calibre.
The officer said he witnessed a CZ 9mm Luger pistol with the serial number A643425 being fired with a test projectile. "It was positively identified as having been fired from the pistol," the court heard
Mr Cargill asked the witness: "Where's the controlled one (casing)?"
"I don't have it. It should be with the firearm," the witness answered, admitting that he did not personally examine or test the firearm. ASP Thompson also said he had not taken pictures of the projectile casing for its unique characteristics.
ASP Smith then gave evidence in which he corroborated testimony given on Thursday by Corporal Theo Dawkins, who said that Kemp Road Urban Renewal had hosted a crime symposium at St Bede's Church hall on November 2, 2013.
Delancy, he said, presented the weapon to him at the event after giving a presentation on behalf of Operation Cease Fire, a group headed by himself, Carlos Reid and Eric Fox.
"Apart from some photos that were taken, I handed over the items to Cpl Dawkins and gave instructions to update police control room and then to hand it over to the Fireams Tracing Unit," ASP Smith said.
After brief legal discussions in the absence of the jury, the weapon was tendered into evidence.
Mr Cargill asked the witness if his client, after his presentation, received a certificate of appreciation signed by himself and the Junior Minister of National Security Keith Bell. The witness said yes and verified his signature on a certificate produced by the defence.
Mr Cargill also put a letter of invitation, from the witness to his client, to the crime symposium dated September 19, 2013. ASP Smith was asked to read the document that bore his signature.
ASP Smith said the aim of the symposium was to "promote community safety through providing a forum to hear the concerns of the community, to promote a turning in of illegal guns in partnering with the local churches and north eastern police division and to build community relation and restore community confidence in the police."
"Part of the symposium was to promote the turning in of guns, correct?" the lawyer probed. "Yes" ASP Smith answered.
"Did you arrest Mr Delancy when he handed over the gun?" Mr Cargill queried. The witness said no and when asked why he didn't, ASP Smith said: "We have persons who turn in firearms every day."
"I didn't see a commission of offence. We encourage the turning in of guns," the witness added.
While he could not speak to Delancy's actions since his arrest, ASP Smith admitted that Delancy had previously turned in weapons to the police during the course of his contractual work with Urban Renewal.
"You were appreciative of one less firearm of the street, correct?" the lawyer asked. ASP Thompson again said yes.
"Why is Mr Delancy before this court?" Mr Cargill probed. "I can't answer that," the witness said.
In re-examination, Mr Thompson asked the witness if the accused revealed who gave him the gun or where he found it. The witness said no.
"Do you question persons as to where they get them when they turn them in? The witness said no.
"It's supposed to be anonymous, correct?" Mr Cargill probed. "Yes sir, to encourage people to turn over firearms to police," the witness said.
Ingraham, Curry, Edwards and Farrington are respectively represented by Romona Farquharson-Seymour, Sonia Timothy, Terrel Butler and Philip Hilton. Sophia Pinder-Moss is the assisting prosecutor.
The trial resumes on Monday at 10.30am.