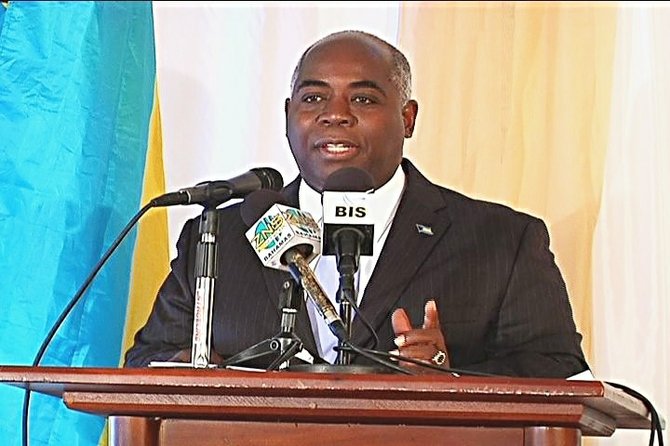 By RICARDO WELLS
Tribune Staff Reporter
rwells@tribunemedia.net
AN announcement on the strategic partner picked to manage the Bahamas Electricity Corporation rests with Prime Minister Perry Christie, Minister of Works Philip "Brave" Davis said yesterday.
"As I have indicated before, the BEC matter is with the prime minister and any questions about timing issues will have to be put directly to him," Mr Davis said when asked when the government's decision on BEC will be announced.
He added: "Everything that we were tasked to do to date on the BEC matter has been completed. We are just waiting for him to review the matter and make his announcement."
Last week, Mr Christie said an announcement on the strategic partner for BEC will come "shortly".
That came just days after Mr Davis said the government had decided to defer any announcement until Mr Christie had returned from an energy security summit held in Washington, DC, late last month.
"The prime minister has indicated that he's having a meeting next week with the vice president of the United States of America where energy will be discussed as the topic and he thought before they make the announcement perhaps he should hear what they are saying about this aspect of energy in the whole Caribbean.
So we think we are where we want to be and it's only a question as to those things happening," Mr Davis said last month.
Free National Movement Deputy Leader Peter Turnquest has called the decision to delay announcing the strategic partner a "smoke screen".
In a previous interview, he said he couldn't identify a reason for the delays, adding that the Christie administration, as usual, was trying to buy time.
The government announced initial plans to reform BEC in August 2013.
Mr Christie said at the time that two separate companies would take over the management and power generation at BEC. He indicated that contracts would be signed at the end of 2013.
However, last December, 16 months after reform plans for BEC were first announced, Mr Davis added further confusion and speculation over the matter when he confirmed a Tribune Business report that the government had abandoned its earlier plans for a split. It is now expected that one company will be selected to manage BEC.
The PM returned from his Washington, DC, trip late last month.