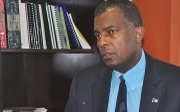 By AVA TURNQUEST
Tribune Chief Reporter
aturnquest@tribunemedia.net
FOREIGN Affairs and Immigration Minister Fred Mitchell yesterday dismissed calls for an easing of immigration policy restrictions to meet the private sector's demands for foreign talent.
Mr Mitchell said that given the rate of work permit refusals, it would be difficult to pinpoint a case where a business was unable to hire essential talent.
"Statements were made from that quarter which suggest that actions of the Department of Immigration are responsible for retarding the ability of businesses in this country to get the talent they need to do the jobs at their businesses," he said. "I wish, sir, that someone would give me an example of that."
Mr Mitchell's comments follow calls from Chamber of Commerce CEO Edison Sumners, who said the easing of restrictions would allow private sector businesses to efficiently secure the services of foreign talent.
The Chamber has offered to help the Immigration Department improve its record keeping and application processing capacities, according to Mr Sumners, who noted that improved services would end much of the concerns the private sector has about the "new" immigration restrictions.
Among the challenges the recent immigration policy presents for private sector businesses, Mr Sumners explained that the restrictions have created a demand that is "clouding the system" and making it difficult for skilled foreign workers to be hired in a timely manner.
During his contribution to the mid-year budget debate, Mr Mitchell countered: "The rate of refusals of work permits are so, that I venture to guess that there is hardly an example – not one – to be found where any business has been unable to get their talent that they need to run the businesses in this country. And if that is the case, then they need to let me know where that happens and where that occurs.
"So I want to set the record straight on that," he added.