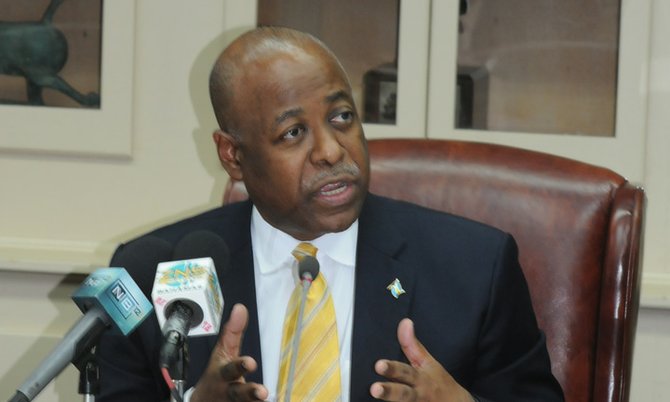 By SANCHESKA BROWN
Tribune Staff Reporter
sbrown@tribunemedia.net
TOURISM Minister Obie Wilchcombe yesterday denied reports that international gospel artists have been added to the Bahamas Junkanoo Carnival line up.
He also said the government is increasing the amount of seed money given to Junkanoo groups to help them prepare for the Junkanoo Summer Festival as well as the New Year's Day and Boxing Day parades.
Mr Wilchombe told The Tribune that it was his understanding that a private group of persons were attempting to hold a gospel concert the week of carnival but it "has nothing to do with the (Carnival) Commission or the government".
He was responding to an article in a local tabloid that claimed the government was spending $250,000 each for American singers Donnie McClurkin, Yolanda Adams, Fred Hammond and Kirk Franklin to perform at the inaugural carnival.
"I heard that a private group was attempting to bring some gospel artists but that is not our initiative," Mr Wilchcombe said when contacted for comment.
"I am not sure if they approached the commission about possibly being added to the line up, but I do know that we did not approach them or bring them there. We are still, however, in discussions about who the international artist will be but that should be settled soon."
On the issue of funding for local Junkanoo groups, the tourism minister said their seed money would be increased beginning with the upcoming Junkanoo Summer Festival.
"By next week we will be able to tell how much money the groups will be getting," he said. "We are in negotiations right now to increase their money. Boxing Day and News Year's Day will also be increased but that is not my ministry so I cannot say by how much, but I know it will be much more than the $8,000 they are getting now.
"You can never spend too much on the development of culture and Junkanoo," he added. "I would love to see Junkanoo become a major festival. It is a Broadway show, a show that the entire world should see. It should be presented in a grand way. Junkanoo groups get their seed capital but that $8,000 or $9,000 is not enough. So we are now looking to ensure that Junkanoo gets the right support financially. We definitely are increasing that money, Junkanoo will get what it deserves."
Last week, the Carnival Commission announced the first round of local entertainers, which included J Mitchell, T Connection, Visage and Baha Men.
They are expected to take the stage for the Music Masters concert on May 8.
It has been reported that the government was in talks to get Barbadian singer Rihanna to headline the festival.