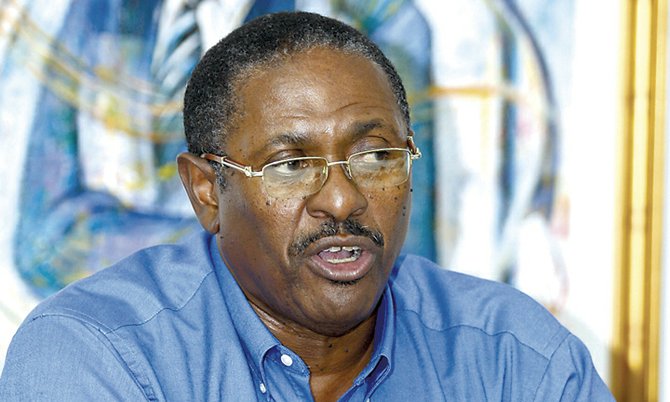 By RASHAD ROLLE
Tribune Staff Reporter
rrolle@tribunemedia.net
PROGRESSIVE LIberal Party (PLP) Chairman Bradley Roberts sided with Elizabeth MP Ryan Pinder yesterday following a heated argument Mr Pinder had in the House of Assembly on Thursday night with Fort Charlotte MP Dr Andre Rollins.
Dr Rollins accused Mr Pinder of considering himself to be the only person in the country with financial services knowledge despite overseeing an industry that shrunk under his watch.
The PLP, following an intervention by Prime Minister Perry Christie, decided last month not to suspend Dr Rollins for the outbursts he made against the Christie Administration last year.
However, observers have wondered how the party would deal with Dr Rollins if he were to go against the interests of the party in the future.
Following the latest confrontation involving Dr Rollins, Mr Roberts said yesterday that "further disciplinary action (him)" is not necessary, adding that PLP MPs will likely express views about Dr Rollins' ideas that are similar to the ones expressed by Mr Pinder when the House resumes next week.
"I think Ryan Pinder handled himself very well," he said. "He spoke for me in what he said and I fully support him."
The argument between the two "next generation" MPs stemmed from comments Dr Rollins made in the House on Wednesday, when he said National Health Insurance (NHI) should not be implemented at this time.
Mr Pinder responded, saying people should be careful of the "mistruths" expressed by members with "some intelligence and access to Google."
"Certainly, I found it shocking that the member would question the need for National Health Insurance when he claims to be a representative who is looking out for those who cannot provide and help themselves," he said. "That is the fundamental basis of why the PLP is advocating for NHI. He spoke to this elaborate three-part economic model (Wednesday night). But in doing so I think he might have confused himself."
Dr Rollins, however, said he took offence to Mr Pinder's "personal insults".
"He will always complain and criticise the former administration about how poorly they managed financial services, yet under his tenure as Financial Services minister, the industry has shrunk," he said. "He has done nothing to demonstrate any growth to financial services, yet he carries himself to be a financial services genius."
At one point, House Deputy Speaker Dion Smith requested that the two, seated next to each other, be separated.