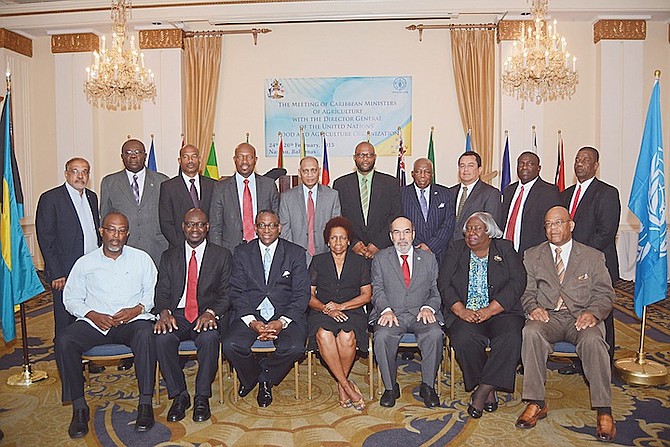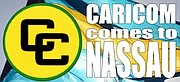 By Ricardo Wells
Tribune Staff Reporter
rwells@tribunemendia.net
AGRICULTURE, Marine and Fisheries Minister V Alfred Gray yesterday proposed that CARICOM nations contribute to a common fund for agricultural development to bring an end to regional dependency on foreign food sources.
Mr Gray made the recommendation during the opening ceremony of the Conference for CARICOM agricultural ministers that Caribbean nations should move beyond basic discussion by following the European Union's "common fund" example.
Mr Gray said: "Virtually every economy in CARICOM, with the exception of the three continental states, Guyana, Belize and Suriname, depends on tourism as the main engine that drives their economy and serves as the greatest foreign exchange earner.
"Tourism has literally changed our economies as well as the role that agriculture plays in our various economies. Some of us may not have recognised this change; however, all of us have become food dependent, hence our huge food import bill of between $5 and $6 billion a year for the region."
Minister Gray explained that without the implementation of this "necessary" fund countries in the Caribbean would remain dependent on foreign food sources. He said: "If we do not do this, we will not, in the foreseeable future, rise above being a food deficit region."
According to Mr Gray, to "kick-start" such a fund "contributions from the various countries should be based on each state's ability to give to such a fund". He indicated the organisational structure of the proposed fund would involve existing "commodity groups" like the Caribbean Poultry Association (CPA), the Caribbean Network of Rural Women Production (CANROP) and the Caribbean Farmers Network (CAFAN).
He indicated that these groups would play "leading roles in this paradigm shift as we seek to advance regional agriculture and move from regional food dependency to regional self-sufficiency," Mr Gray explained that due to large food import bills, countries in the Caribbean lose a substantial amount of the  money earned from tourism.
"Why should we in The Bahamas import rice from Thailand when Haiti and Guyana have the capacity to supply us with all the rice we need? Why should Trinidad and Tobago buy its mutton and goat meat from New Zealand, when we in The Bahamas and Barbados can supply them with all the fresh lamb, mutton and goat meat they need?
"The financial programme should be buttressed by the utilisation, of national tertiary and secondary agricultural academic institutions, in the provision of technical training. At these institutions, there should be a high degree of concentration on skills development for our young people so as to emphasise agriculture and agribusiness being driven by Science and Technology.
"I realise that the idea of the Fund is new. In a few days, prime ministers of the Caribbean will meet here in Nassau and we should present them with the way forward for a new business plan for Caribbean agriculture," added Mr Gray.
He said the quest to achieve "New Agriculture" for the Caribbean each individual country has to view the region as one unit.
The CARICOM agricultural ministers' conference will provide a platform for member nations to directly address the Food and Agriculture Organisation (FAO) director general, Dr Jose Graziano da Silva about concerns facing their individual nations.
Dr Graziano da Silva said the strategies being developed and implemented by Caribbean nations bring a comprehensive view that tackle the multiple dimensions of food insecurity, and propose to deal with its root causes as well as its consequences.
He said: "Let me add that a vibrant agricultural sector can be an important driver for sustainable and inclusive development in your countries. Agriculture creates employment opportunities, especially important for the youth, and is critical to reduce rural poverty. Agriculture can supply the Caribbean tourism industry."
"FAO wants to work with you to tap into the full potential of agriculture in your countries. Let me highlight that FAO is aligning its global, regional, subregional and national work. This helps ensure that our efforts are coherent, add up to more than isolated actions, and contribute to your national development plans."
According to FAO statistics since 1990, the prevalence of undernourishment in the Caribbean decreased by seven per cent from 27 to 20. Despite that, statistics show that 7.5 million people suffer from hunger in the Caribbean.
Mr Gray said that CARICOM nations should explore economic diversity in an effort increase production and productivity. He noted that the Bahamas is still scratching the surface on its agricultural development: "We are not yet walking, in fact we are still creeping".
"But as a region, working together, with the help of the FAO and other organisations we can bring an end to our dependency in this region."