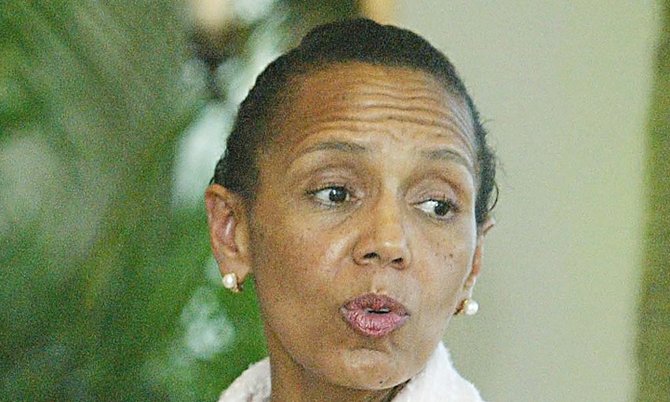 By SANCHESKA BROWN
Tribune Staff Reporter
sbrown@tribunemedia.net
THE GOVERNMENT has reinstated the Witness Protection Programme and "beefed up" the Witness Care Unit, according to Attorney General Allyson Maynard Gibson.
Mrs Maynard Gibson said her office is "strongly focused" this year on the protection of witnesses and the prosecution of those who attempt to interfere with witnesses.
The PLP promised to reinstate the programme, which they claimed the Ingraham administration removed, if they won the general election in 2012.
"There cannot be a trial without a witness and without jurors and we are strongly focused on this this year because these are real concerns in a our community," Mrs Maynard Gibson said,
"We want people to be fully aware of witness anonymity, which means you can report the matter and be satisfied that your identity will be protected. There are many means of doing that, including your voice can be disguised, you can give evidence with a shield over your face, you can give evidence by video conference, you can give evidence behind a screen, and many, many other ways.
"We want to emphasise that we have reinstated witness protection so, where we need to add another layer, that will take place as well and our witness care unit is also being beefed up as well to ensure that our witnesses are fully protected and fully aware at all times. I want to stress that the system is broken and we cannot repair it overnight."
Mrs Maynard Gibson also said that her office intends to speed up the time people who interfere with witnesses or jurors are tried.
"We have already made it very clear that anybody who is involved in interfering with persons involved with the administration of justice it is our intention that they be tried within six months. This is very important.
"We have accomplished nine months so far in relation to one such person who interfered with a policeman and that has never happened before in our history. And so we believe that the public would like us to send a clear message in The Bahamas that we would not tolerate persons interfering with anyone involved with the administration of justice, and that includes jurors."