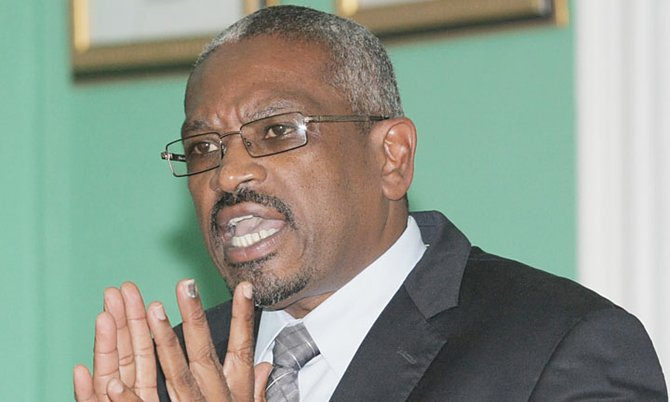 By AVA TURNQUEST
Tribune Chief Reporter
aturnquest@tribunemedia.net
AS the government works to fine-tune its new tax, FNM Leader Dr Hubert Minnis yesterday said his party is forming a plan to repeal certain categories of value added tax if it wins the next election.
Dr Minnis said that a special commission has been established to look into
several categories where VAT is applied, namely utilities, children's clothing and bread basket items.
He added that the commission is also considering repealing the VAT charge on the management of pension funds.
"This government is again showing no respect for the poor or middle class," he said.
"With an already shrinking middle class and poverty increasing, to further increase taxes (it) is an insult to the poor and middle class.
"The problem is erratic spending and poor collection of our taxes," he added. "These are issues that must be addressed and the VAT taxes will cause great suffering in the country.
"The FNM has a committee to look into repealing sections of VAT, to protect certain areas like electricity and other utilities generally, such as water."
Dr Minnis forecast that increases to electricity costs will lead to more layoffs.
VAT is charged at a rate of 7.5 per cent on most goods and services, with few exemptions.
Since the new tax was implemented last week, there has been widespread concern from consumers and the business community over fears of price gouging or fraudulent tax application.
Yesterday, FNM Deputy Leader Peter Turnquest warned that there could be possible legal troubles for the government for levying the tax on service transactions in Freeport, the city regulated by the Port Authority under the Hawksbill Creek Agreement in Grand Bahama.
The East Grand Bahama MP explained that although the agreement does not specifically address services, the government's "narrow position" was likely to be challenged.
"I support the Port Authority's position," he said. "The government's position that services are not included in the Hawksbill Agreement is a narrow position. At the time it was written, nobody would have thought the government would come back and make that suggestion. It is clear that the intent was for the area to be free of all taxes. The government is taking liberty and I look forward to the way the Port Authority handles it."
Mr Turnquest added: "Any tax they collect, they should put in escrow. It's likely that they will have to pay them back."
Mr Turnquest also criticised comments made by Deputy Prime Minister Philip Davis, who told reporters that Bahamians should accept the new tax just as they adhere to taxes while shopping in the United States.
"The difference is when you pay taxes," he said, "you expect service accountability and responsibility. You want to know where your tax dollars are going, and that is the biggest complaint. We need fiscal responsibility and transparency, and a follow through on how these taxes are used to reduce the debt."