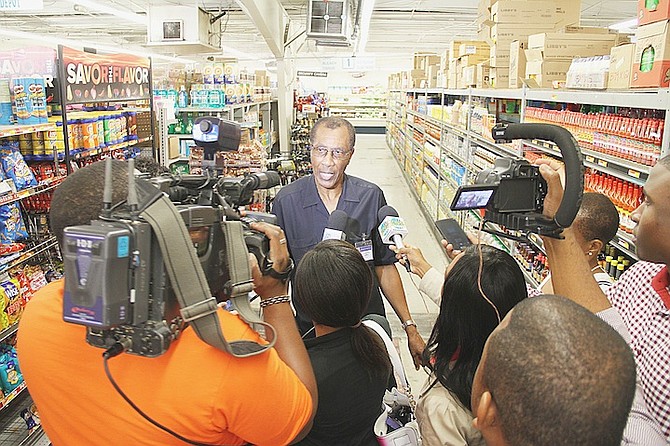 By NICO SCAVELLA
Tribune Staff Reporter
nscavella@tribunemedia.net
PRICE Control Commission Chairman EJ Bowe yesterday expressed disappointment at a local supermarket for not having the necessary documentation that would have assisted his organisation in its attempts to control alleged "price gouging" by retailers throughout New Providence.
According to Mr Bowe, Super Value's Robinson Road and East Street stores did not have a report detailing the initial price of their bread basket items and extended bread basket items, landed fees, and the subsequent 23 per cent markup on the landed price for New Providence.
The discovery was made shortly after noon yesterday during one of the PCC's price control inspections on various grocery and retail stores. The spot checks come amidst complaints by residents of retailers raising the prices on goods and services following the implementation of the government's 7.5 per cent Value Added Tax (VAT), which came into effect on January 1.
According to the complaints of various residents, the prices are often noticeably higher than they would normally be, even without VAT attached to the cost.
Yesterday, Mr Bowe said it made "no sense" for Super Value not to have the necessary documentation. He also said the PCC was "very committed" to combatting price gouging, and said any retailers caught engaged in the practice would be "prosecuted."
"Copies of those documents should at least be here," Mr Bowe said of Super Value. "When head office is dispatching the goods to come to those various stores, when they send it to them, send copies of the documents. Why the store can't have the documents?
"Price gouging must be stopped. We cannot allow the merchants to put up prices at their whims and fancy. There are regulations in place and they have their mark up and all of that. What we told (retailers) is you have your mark up, but do not go one cent above the ceiling of the price control regulation that is stipulated. But we're very concerned because we get complaints from consumers all the time."
Yesterday, Mr Bowe and a group of PCC inspectors scoured Super Value to ensure that the store's price placement on bread basket items and extended bread basket items was in accordance with local specifications.
According to Mr Bowe, however, inspectors soon realised that the store did not have the documentation detailing the initial price of the items, landed fees, and the subsequent 23 per cent markup on the landed price for New Providence, information that would allow them to successfully complete their inspection.

As a result, Mr Bowe said the PCC would ultimately have to take the items back to their head office for evaluation.
Complaints
The inspection yesterday came amidst complaints from residents about local retailers allegedly engaged in "price gouging".
One customer at a popular shopping centre said two weeks ago she noticed an area rug in a home furnishing store priced at $72.99. She said she later returned to buy the rug, only to find out the price had jumped to $83.99.
"I said (to the manager) what you all are doing is wrong," she said. "I came to buy this rug and I'm not going to buy the rug because it went up by $11. Now you're going to charge me 7.5 per cent on an increased price when the old price was $72.99. I will not patronise any company that I see doing stuff like that because it's wrong."
Another resident said when he checked last December, the price for a container of vitamins was being sold by a local pharmacy for less than $13. He said when he went to purchase a bottle yesterday, the price had skyrocketed to over $24.
"It only went up since VAT," he said. "From December 2014 to January 5, 2015 that's a big jump. From less than $13 to $24 and odd cents. I think that's a little expensive. That's ridiculous man."
Yesterday Mr Bowe said the PCC was "totally committed" to combatting the problem. He said he would not "sit down idly by and allow the merchants to take advantage of the consumers".
"Going forward now, if they (are) found in violation they will be prosecuted, because they know better and it's no excuse to say anything," he said. "The same way you can go up making a mistake why you can't you make a mistake and carry the price down. It'll take us some time to verify what's going on, but the consumers have legitimate complaints. We will check them out, every complaint. We are duty bound to protect the consumers, and we will do that. The merchants have been having a field day for too long."
Businesses found in violation of the VAT regulations are subject to prosecution. The penalty for every item that is over-priced is $5,000.
The commission is also investigating complaints of price gouging of items at businesses that are not price-controlled.
Consumers are urged to contact the Price Control Commission at 356-9391-4 to report complaints.