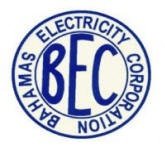 By SANCHESKA BROWN
Tribune Staff Reporter
sbrown@tribunemedia.net
BAHAMAS Electrical Workers Union President Paul Maynard said yesterday he "welcomed a lawsuit" from Bahamas Electricity Corporation Chairman Leslie Miller if it means "the truth will finally be revealed".
Mr Maynard told The Tribune he is "unmoved" by threats of legal action from Mr Miller and said he "hopes he goes through with it."
Mr Miller threatened to sue Mr Maynard after The Tribune published contents of a letter the union leader sent to Labour and National Insurance Minister Shane Gibson last week Tuesday.
In the letter, Mr Maynard alleged that Mr Miller is using the controversial issue of overtime pay "as a smoke screen" for the "unethical things" that Mr Maynard claimed he is doing at BEC. He also claimed that Mr Miller signed an engine maintenance contract without board approval and was a "consultant" for the firm in question.
Last week Mr Miller strongly denied the allegations.
He told The Tribune: "I'm sending this to my lawyer, Mr Anthony McKinney, to take action against Maynard for these scurrilous accusations sent to Mr Gibson."
"I don't care what Mr Miller does," Mr Maynard said when contacted yesterday.
"As a matter of fact, I hope he does sue, then maybe everyone will see the truth and see what I have been saying all along. I stand by what I said. The letter wasn't addressed to him anyway, it was for the minister but if it means everything will come to light, I welcome it. I fear no one, but God. He can't say I defamed his character because he does not have a character to defame."
In the letter, Mr Maynard said the union is aware that Mr Miller allegedly signed a contract with Burmeister & Wain Scandinavian Contractor (BWSC) to maintain BEC's engines "without the board's approval or knowledge."
"The union is also aware that Mr Miller has the company BWSC lined up to do work for the company known as Power Secure if they are the ones selected to partner with the government in managing BEC," Mr Maynard claimed. "Furthermore, the union is also aware that Mr Miller is a consultant for the company BWSC that is located in Denmark, but has been maintaining BEC's engines at Clifton Pier for many years for the cost of $500,000 per engine to overhaul. However, when the employees (do) it on overtime, it only costs the corporation $150,000 per engine to overhaul. The only way to bring both figures down drastically is to change those outdated engines that continuously breaks down to gas turbines, which is more efficient and reliable. Mr Miller knows all of this because he did a thorough research on the overtime situation cost and what needs to be done to stop it or curb it to a minimum."
Mr Maynard also alleged that Mr Miller was "being very deceitful to the government and the Bahamian public."
Mr Miller said Mr Maynard's claims were not true, also the figure Mr Maynard claims BEC is paying BWSC to service its engines is "false."
"Leslie Miller as chairman has signed absolutely no contract without the board's notice," the Tall Pines MP added. "We (have) a normal contract with BWEC to maintain the engines. We have it because the workers out at Clifton refuse to service them. It's just a pure lack of maintenance and slackness at Clifton that caused us to hire this group. The best engines we ever had were the ones we purchased from BWEC."
Calls to Labour Minister Shane Gibson for comment yesterday were not returned up to press time.