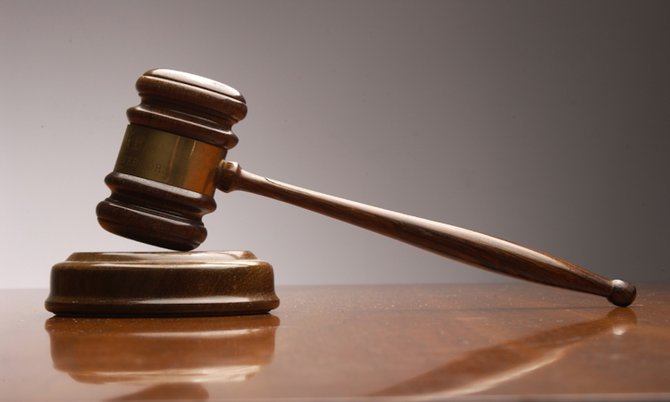 By LAMECH JOHNSON
Tribune Staff Reporter
ljohnson@tribunemedia.net
TWO Bahamian pilots yesterday denied knowledge and possession of $1m worth of drugs found on the plane in which they brought a passenger from Canada to Nassau.
Darryl Bartlett, the 38-year-old son of a senior official in the Attorney General's Office, and 49-year-old former policeman Murrilo Sullivan, appeared before Magistrate Andrew Forbes to give their defence against allegations of their involvement in a $1m drug seizure on April 7, 2014.
"Did you have any knowledge of what was on that plane?" lawyer Murrio Ducille asked Bartlett, who took the witness stand first.
"No, sir," the pilot replied.
"Speaking specifically, did you know about any dangerous drugs being on that plane?" the lawyer then asked. Bartlett said "no."
Bartlett and Sullivan each face three counts of possession of dangerous drugs with intent to supply, conspiracy to possess dangerous drugs with intent to supply, conspiracy to import dangerous drugs and importation of dangerous drugs.
Officers and administrators of the Drug Enforcement Unit acted on a tip that led them to the Executive Flight Support section at the airport. A search was conducted of a Hawker Jet that had just arrived from Montreal, Canada. During the search, officers found four suitcases containing 149 lbs of marijuana, 17.4 lbs of ecstasy pills and 2.6 lbs of Hashish oil.
The marijuana has a street value of $670,000, the ecstasy pills are worth $360,000 and the hashish oil, $20,000.
Their passenger on the plane, 24-year-old Michael Webster of Quebec, Canada, pleaded guilty to the charges he faced and was jailed for four years last July.
Magistrate Forbes had previously heard testimony from US Drug Enforcement Administration (DEA) agent Eric Durante who said both accused men were in contact with him before the flight left Canada en route to Treasure Cay, Abaco.
Agent Durante said he instructed the men to bring the bags to Nassau after they contacted him during the flight, questioning why there was "heat" at the airport in Abaco.
The pilots and Webster, however, were arrested on their arrival at Executive Flight Support in New Providence.
Webster reportedly told Inspector Weymond Demeritte, in the presence of Bartlett and Sullivan, that his girlfriend's father asked him to deliver the bags and two cell phones to an unnamed person in Treasure Cay, Abaco.
In yesterday's proceedings, Mr Ducille asked Bartlett where he was positioned on the plane.
"I was in the left seat of the cockpit," Bartlett replied.
"Was there anyone else on the plane with you?" Mr Ducille asked. The 38-year-old said Sullivan and a passenger were present.
Sullivan, Bartlett added, was seated in the right seat of the cockpit.
"What's the significance of the left and right seats?" the lawyer asked.
"The captain sits in the left and the first officer in the right," Bartlett said. Mr Ducille asked if there was "anything separating the pilots from the passengers" and Bartlett answered: "There's a door."
Bartlett said he eventually discovered the name of the passenger and that there were four suitcases on board the plane.
"Did you know the contents?" Ducille asked. Bartlett said he did not.
"Did you at anytime examine the suitcases?" Mr Ducille asked.
The accused again said "no".
Mr Ducille asked Bartlett if he knew Durante. He said he had met him before.
When he took the stand, Sullivan did not deny being in communication with Durante during the flight but denied knowing that the suitcases contained drugs.
"Did you tell him you knew of drugs on the aircraft?" Ducille asked. The accused said no.
During cross-examination by Acting Director of Public Prosecutions Garvin Gaskin, it was suggested to Bartlett that he committed the crimes he has been charged with.
Bartlett said he did not.
"You accept that you were a DEA informant?" Mr Gaskin asked. The accused said no.
"You informed and operated as a pilot based on your knowledge of trafficking activities didn't you?" Mr Gaskin probed. The accused, again, said "no".
Bartlett was asked when he had met Durante. He said it was "sometime in 2012".
"He'd contacted me on the phone after we'd exchange contacts," Bartlett added.
"What you talk about?" the prosecutor asked. Bartlett said they had "small talk".
"Just to say hi?" the prosecutor further probed. Bartlett replied that Durante "would ask a few questions".
Bartlett was asked if his employer at the time, Western Air, flew to Canada. The accused said the airline did not.
Bartlett dismissed the prosecutor's suggestion that he brought drugs into the country.
Sullivan, too, denied knowledge of the drugs and when cross-examined, said he was paid $500 for the co-piloting gig to Canada.
Mr Gaskin asked the accused if he accepted that more than $7,000 was found on him when he was arrested. Sullivan said he did.
Sullivan also admitted that he told police that $2,500 of the money was for his daughter's tuition, $650 for her car repair, $1,000 for groceries, even though his daughter was not studying in Canada and he did not buy groceries in that country.
Both Crown and defence counsel must provide closing submissions to Magistrate Forbes who will then announce a date for his ruling on the case.