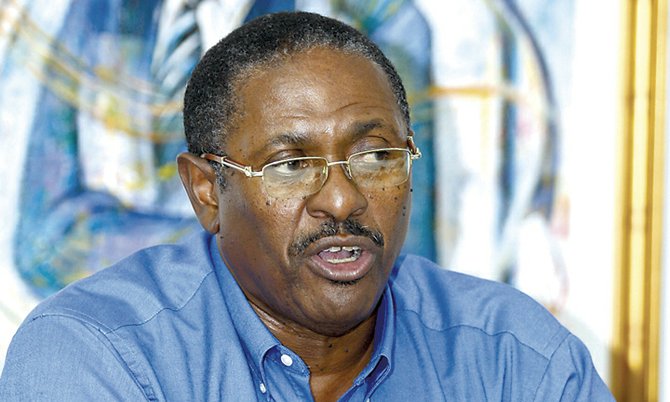 Reader poll
169 total votes.
By KHRISNA VIRGIL
Tribune Staff Reporter
kvirgil@tribunemedia.net
PROGRESSIVE Liberal Party Chairman Bradley Roberts yesterday said Bahamas Christian Council President Rev Dr Ranford Patterson was "misguided" when he denounced the inaugural Bahamas Junkanoo Carnival.
On Monday, Rev Patterson released a statement calling the Bahamas Junkanoo Carnival costumes "immodest" saying the scant attire could lead to "fornication, promiscuity, rape incest" and other "sins of the flesh".
Mr Roberts insisted that Junkanoo Carnival strengthens the commercial component of Junkanoo. He said it would diversify the tourism product and expand opportunities for Bahamians in the cultural community.
"Many were shocked at the media comments attributed to the president of the Bahamas Christian Council on the eve of the inaugural Bahamas Junkanoo," Mr Roberts said in a press statement.
"With all due respect, we are obliged to ask whether President Dr Ranford Patterson has ever attended the Boxing Day and New Year's Day Junkanoo parades that have been held for well over one century in our fair Bahamas?
"Is President Patterson suggesting that other similar cultural festivals celebrated in many countries in this region and around the world for literally centuries are the cause for the instances of rape, incest and sexual immorality occurring in those countries?"
Mr Roberts challenged Dr Patterson to provide the public with empirical data to support those claims.
"Also, how does the president pronounce a conclusion of social doom and gloom on an event that is yet to take place?

"While I acknowledge that the Bahamas has its share of social issues, no social scientist has ever connected them with our premier cultural expression or any variation thereof."
While applauding the government for seeking ways to boost revenue, on Monday Dr Patterson said it appears as though Bahamian women's sexuality is "being overtly exploited for monetary gain".
He urged the government to "be careful of the gates they are opening" to increase the country's revenue, saying once open they will be hard to close.
The concerns were made public days after three members of the carnival's commission resigned after the government refused to sign off on a nearly $2m deal for Janet Jackson to perform during the controversial event in May, according to Tourism Minister Obie Wilchcombe.