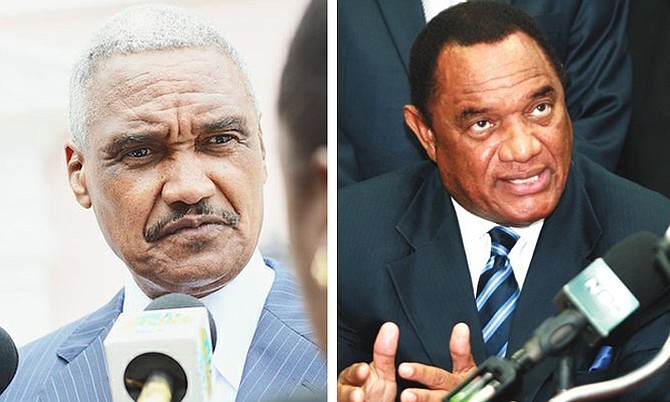 By NICO SCAVELLA
Tribune Staff Reporter
nscavella@tribunemedia.net
PRIME Minister Perry Christie yesterday passionately defended the inaugural Bahamas Junkanoo Carnival from detractors and hit out at the "intrusiveness" of Progressive Liberal Party MP Leslie Miller who this week called the planned festival "garbage."
Mr Miller has also suggested Carnival could have a negative impact on youth by being sexually suggestive and said he had "no appetite" for the festival's sexually charged nature.
Speaking on the issue of Junkanoo Carnival at the Bahamas Business Outlook yesterday morning, Mr Christie said Mr Miller's own daughters are actively involved with Carnival group, Enigma.
"The first people who spoke to me when I walked into this room with hundreds of people gathered together for Junkanoo Carnival was Leslie Miller's two daughters," the prime minister told the crowd.
Pushing back at critics who have denounced the skimpy women's costumes associated with Junkanoo Carnival, Mr Christie suggested that Junkanoo regularly has vulgar acts on display and questioned if critics of the new festival have attended the annual Bay Street parades.
"When I go to Bay Street now and I looked at the girls last Christmas and this Christmas, I said 'Lord, they got Carnival costumes on,'" he said. "I don't know if you people go to Junkanoo, I don't even know if Leslie Miller goes to Junkanoo."
Further defending the festival, Mr Christie said it will boost the economy, create employment and turn Bahamians into "superstars."
And while Mr Christie yesterday said he "welcomed" Mr Miller's "grave reservations" about Carnival, he said the MP could have simply talked to him personally about his views.
Mr Christie said: "I welcome his (Miller's) intrusiveness."
"I don't frown about that. I mean, he could have talked to me about it and I could have explained my views. It's the same with any colleague that I have, because somehow people in public life believe that the people who are in the Cabinet don't have those views."
Expenditure
Meanwhile, organisers of the controversial event have spent less than $2 million of the $9 million budget so far.
"To date we have spent $1.5 million, with a total of 214 small and medium-sized local entities for an estimate GDP impact of about $7 million," Paul Major, chairman of the Carnival Commission, said.
He spoke of the expected economic benefits of the new festival in an attempt to silence the naysayers who have said they want the event to fail.
He added that he did not understand why people are accusing the commission and the government of "forsaking Junkanoo."
He said the aim is to create a sound that is marketable internationally, such as Jamaica's reggae or the Caribbean's Soca music.
On Wednesday, Mr Miller told The Nassau Guardian the government should not "import any garbage" into the country to further destroy young people that are already "totally out of line morally."
He said the government should be spending money "branding what we have" instead of "imitating or transplanting other people's culture and call it something original."
Tourism Minister Obie Wilchcombe also responded to Mr Miller's comments, and said yesterday that while Mr Miller had "a right to speak," he felt it was "unfortunate" that the backbencher did not address the prime minister directly on the matter.
Mr Miller was asked his views on Junkanoo Carnival days after the Bahamas Christian Council released a statement chastising the "immodest" costumes for the planned event, saying the scant attire could lead to "fornication, promiscuity, rape incest" and other "sins of the flesh."
In response, Mr Miller reportedly said he had his own "grave reservations" on whether it would benefit the country, raising issue about the negative affects the festival and its costumes may have on young people that are "totally out of line morally" in the country.
" . . .If you want to import garbage into my country, I take exception to it, to be honest with you, as a member of parliament and as a Bahamian," Mr Miller said. "I say garbage because I was there one time as the minister of trade and industry, in Trinidad where they had the thing (Carnival), and it didn't impress me. I saw a lot of vulgarity, people were, I don't want to say hitting on each other, but almost a sexual situation in broad daylight. So I have no appetite for it."
Last month, Bahamas Public Services Union President John Pinder accused the government of copying "the rest of the Caribbean" for planning to spend $9m on the event.
Mr Pinder said he was willing to "bet his bottom dollar" that the government would not break even for the event.
Junkanoo Carnival will span a five-week period, beginning on April 6 and ending May 9.