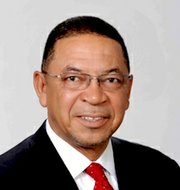 By NICO SCAVELLA
Tribune Staff Reporter
nscavella@tribunemedia.net
THE United States' recent decision to open an embassy in Cuba will have a "major impact" on the Bahamas from a tourism standpoint, according to St Anne's MP Hubert Chipman, who added that the Bahamas will now have to "do better with our services in order to attract more people into this country".
Mr Chipman, the Free National Movement's shadow minister of foreign affairs, said subsequent to the US' decision, The Bahamas will now have to take a "hard look" at "managing our numbers" and finding ways to improve its current tourism product.
He said the government and citizens alike will now have to treat its number one industry as a "valuable, valuable asset" in order to counteract the potentially negative impact Cuba's eventual opening to US tourists would have on this country's tourism product.
On Wednesday, US President Barrack Obama announced that the US and Cuba agreed to open embassies in each other's capitals and subsequently re-establish diplomatic relations for the first time in 50 years. White House officials said that the US would open its embassy in Cuba "shortly after" July 20.
President Obama this week also urged Congress to lift the decades-old US trade embargo, which would open further economic avenues for Cuba, lift restrictions to travel and further strengthen its relationship with the US. Previously in April, President Obama and Cuba's President Raul Castro met in Panama for what American media called a "historic" sit-down meeting – the first between distinct leaders of the two countries in over 50 years.
Speaking with The Tribune yesterday, Mr Chipman said that although Cuba is "25-30 years" behind the Bahamas in terms of physical infrastructure, the Latin American island nation is "very, very rich in culture, and they have a lot to offer."
Those factors, he said, along with the recent endeavours by the US, would have a "major impact" on the Bahamas' tourism product.
"We have a very good product," he said. "Cuba has a lot to offer also. You have a lot of curious people in this world who want to see what Cuba has to offer. There's a lot of Americans who always dreamt of going to Cuba but was afraid of going to Cuba because they don't know whether in fact they would've been able to return. There's all kinds of myths about that.
"At the end of the day these things being lifted, free movement of people and stuff like that, don't be surprised. It has fully come home; it's here now, so how do we deal with it as a people? The people are now being offered other options in terms of the tourism product and stuff like that, so it's something that we have to be mindful of."
Last month, Tourism Minister Obie Wilchcombe told Tribune Business that the government is working with the Cuban government to develop a "multi-destination" travel arrangement with the Bahamas, emphasising that he was not concerned about losing stopover visitors to Cuba.
Mr Wilchcombe, while promising that the Bahamas will "still have its market," said he was more concerned about issues such as marketing and ensuring a superior tourism product.
Prior to that, the Caribbean Hotel and Tourism Association (CHTA) described Cuba's eventual opening as the "biggest and most disruptive pebble to be dropped into the Caribbean pool in 50 years."
The CHTA also warned that Cuba's proximity to the US will act as an immediate draw for Florida's impulse traveller market, which currently gravitates to the Bahamas for short-term stopover vacations.
Mr Chipman echoed the same sentiments yesterday, predicting that there will be an "influx of tourism into Cuba just to find out what Cuba is about."
Stressing the importance of improving the country's current product however, he added: "Service is the key to all as far as the tourism product is concerned. I think people are going to have to smile more. I think from a presentation point of view, how we present ourselves, how we look at tourism, we'll have to look at tourism as a valuable, valuable asset to this country and we have to treat (tourists) accordingly.
"We have to do better with our services in order to attract more people into this country. Long gone are the days where we could've gotten away with service that you could've been better at. So at the end of the day, yes it's going to have a major impact on us."