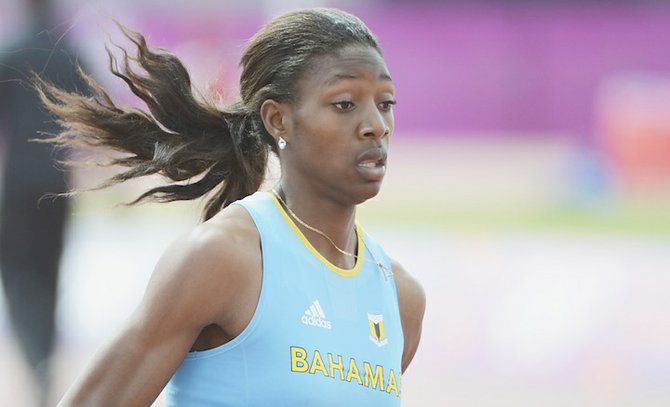 By BRENT STUBBS
Senior Sports Reporter
bstubbs@tribunemedia.net
IT WAS another milestone for Shaunae Miller and Bahamas athletics.
Competing at the IAAF Athletissima Golden League Meeting in Lausanne, Switzerland, on Thursday, Miller ran a personal best 400m as she became only the third Bahamian woman to dip under the 50-seconds barrier.
Miller clocked 49.92 seconds to win the women's 400m in a high quality field that saw American Sanya Richards-Ross second in 51.12 and Jamaican Novlene Williams-Mills third in 51.15.
"I thank God and I feel really blessed," Miller said. "I'm so happy to be able to run under 50 seconds finally. The competition was harsh and it was windy, but I had one goal in mind and I made it."
Coming on the heels of her victory at the Bahamas Association of Athletic Associations' National Open Track and Field Championships last month at the Thomas A Robinson Track and Field Stadium, Miller has now produced the third fastest time so far in the world this year.
American Francena McCorory has posted the two fastest times - 49.85 seconds on June 26 at the USA trials in Eugene, Oregon, and 49.80 on June 13 in New York.
While 21-year-old Miller improved on her previous best and season's best of 50.17 that she recorded on April 24 in Gainesville, Florida, she trails only 'Golden Girls' Tonique Williams, who established the national record of 49.07 on September 12, 2004 in Berlin, and Pauline Davis-Thompson, who held the previous national record of 49.28 running at the Olympic Games in Atlanta, Georgia, on July 29, 1996.
Williams, now retired and coaching in the Bahamas, said she wasn't surprised by Miller's performance.
"I think it's been a while coming for her," Williams told The Tribune. "I think she's showing that she's coming into her own and is definitely ready to compete this year. I think she's going to be able to go to the World Championships and prove that, based on her times, she has the ability to compete with any of the women in the world in whichever race she decides to compete in."
With her time in Lausanne, Miller makes it more vital she make the right decision on which event she will compete in at the IAAF World Championships in Beijing, China, next month. She is a legitimate contender to win a medal in both her signature event - the 400m - and the 200m, where she is also holds the third fastest time this year of 22.14 seconds that she achieved in Kingston, Jamaica, on May 9.
American Allyson Felix has the two fastest times of the year - 21.98 seconds that she ran in Doha on May 15 and 22.09 in Lausanne on Thursday.
At the end of the nationals, Miller had indicated that she is still waiting on her management team to make the final decision on which event in China she will compete in. If she decides to do the 400m, Williams said her national record could be in jeopardy.
"I think anybody who know the sport of track and field and know about athletes know that Shaunae has all of the expectations in terms of longevity in the sport, so to me, it's not just a matter of if she will do, but a matter of just when," Williams told The Tribune about the national record. "She has not been pressed as yet, so I still think that she still have a lot of running ahead of her."
Neither Miller, nor her parents, Shaun and May Miller, were available for comment. Miller is looking to add to her legacy of holding two national records after she set the new 200m national mark at 22.11 on May 9 in Kingston, Jamaica. The previous record was held by 'Golden Girl' Debbie Ferguson-McKenzie of 22.20 from July 29, 2002, in Manchester, England.
Miller's performance comes on the heels of a tremendous feat by Abaco's 19-year-old Steven Gardiner. He upset American LaShawn Merritt in winning the men's 400m, running 44.30 in a meet in Budapest on July 7, a week after he erased 'Golden Knight' Chris 'Fireman' Brown's national record in winning the men's 400m at the BAAA's Nationals last month in an impressive time of 44.27 seconds.