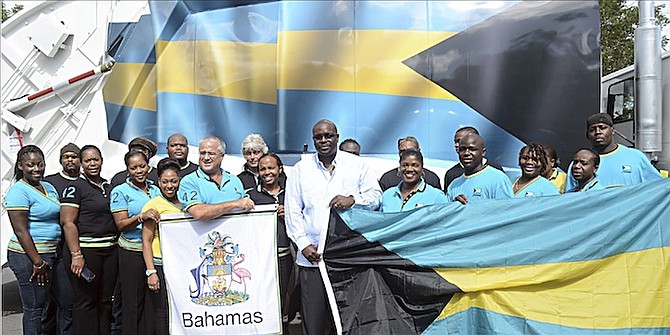 By ETHAN KNOWLES
BAHAMAS Waste is marking the 42nd anniversary of Independence by sending its "Pride Truck" out onto the streets.
Yesterday, after a ceremony at its Gladstone Road headquarters, the company dispatched the vehicle – resplendent in the national flag – for a celebratory city tour.
Staff joined managing director, Francisco de Cardenas, and Minister of Environment and Housing, Kenred Dorsett, in launching the "Pride Truck", emblazoned with the slogan "For a Cleaner Tomorrow" and designed to promote environmental consciousness throughout the Bahamas at a significant moment in the calendar.
The minister commended the endeavour for helping to "sensitise the Bahamian people" to their own waste habits and encourage a "greater sense of individual responsibility". Mr Dorsett added that Bahamas Waste's launch of the nationalistic truck is a "creative effort to instil greater national pride" that will aid in teaching this still young nation the benefits of conservative environmental mandates.
This public initiative by the company mirrors their vehicle clad in pink for breast cancer awareness last October. Mr Dorsett hopes that "more companies follow this leadership".