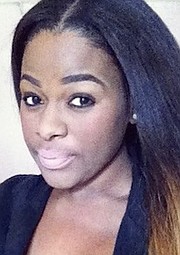 By ALESHA CADET
Tribune Features Reporter
acadet@tribunemedia.net
SHE is just 20 years old, but Tonesa Munnings has already successfully produced and directed her own play entitled "Choices".
The Grand Bahama native has been acting since she was 13 years old and has learned quite a bit about the performing arts over the years, but she had no idea just how strenuous it would be to produce a stage play.
Premiering "Choices" at the College of the Bahamas' Performing Arts Centre last month, Tonesa said the preparation stages were chaotic and lasted through the entire month of June leading up to showtime.
"The hardest thing for me was networking, because as a Grand Bahamian I don't know many people from New Providence and therefore marketing the event was very tough. Funding the event was also difficult as the event cost was little over $3,000 for rental fees, lighting and audio equipment, and advertising," Tonesa. "However, the rehearsal by far was my favourite part of the experience. Every member of the play enjoyed rehearsals as we all bonded during that time. We have become one big happy family since this production and God is definitely in the centre of the family as we continually uplift and encourage one another to journey deeper with Christ."
"Choices" was written by Tonesa in January 2011 as a part of an annual playwriting competition hosted by the Freeport Players' Guild Regency Theatre. Coming first in the competition, Tonesa decided to take her dream further and get the play to a stage – a feat she executed admirably at COB.
Specifically geared towards young adults, "Choices" revolves around the lives of five young adults who are all faced with making life-changing decisions as it relates to career choices, sexuality, relationships and more. Along their decision-making journeys, each main character is given advice from friends and family members to assist them in making choices. However, not all advice is good advice. In the end, the choices made by some characters have tragic consequences.
"As I reflect on the time I had writing this play, I can honestly say that I did not recognise how powerful the message was behind it, as I was innocently just enjoying a hobby of mine which is playwriting. However, the motive behind the play this time was slightly different; I was recently accepted to the University of the West Indies Law School in Cave Hill, Barbados. Upon being accepted I was given a partial scholarship, but I am still in need of financial assistance. Being the innovative person I am, I immediately began to think of ways in which I could raise funds for my tuition," Tonesa said.
"After praying about it, God told me that I should showcase the play. At first I hesitated because I began to calculate the cost of producing the play, but I decided to walk out on faith and trust that God knew what he was doing. In addition to that, I strongly believe that the play has the ability to change lives and I was just eager to share the message with my generation."
During the two-night showing COB, more than 100 Bahamians attended the play. Tonesa said everyone whom God needed to hear the message in "Choices" was seated in the audience, and if only one person's life was impacted then she believes the event was successful.
"I'm just truly humbled and honoured that God chose to use me in this way. In addition, everyone that attended the play seemed to have really enjoyed themselves. So many persons spoke about how great the acting was, how professional the performance was and, more importantly, how great the message was behind the play. I have also had a few persons requesting that I re-do the play and take it into the schools. I honestly believe that this play has the potential to impact the lives of many and as a result I would like to get as many persons to see the play as possible," she said.
Tonesa said playwriting is definitely her God-given talent and her plan is to use it as much as she can to impact as many lives as she can. She has already started work on another play which she is certain will be just as inspirational and successful as "Choices" has been.