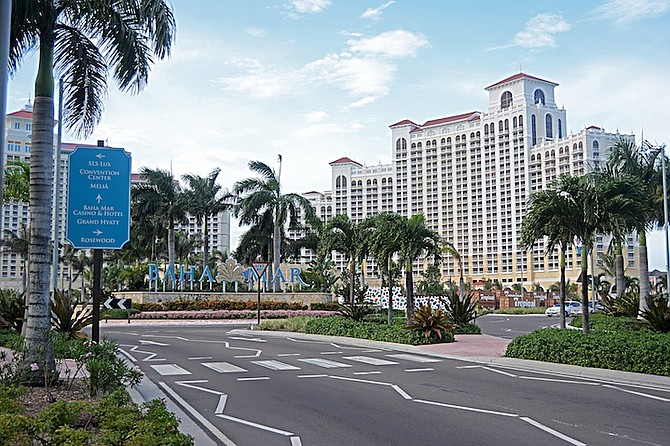 By AVA TURNQUEST
Tribune Chief Reporter
aturnquest@tribunemedia.net
BAHA Mar employees can expect to receive their salaries for another two-week period despite difficulties obtaining payment details from the stalled mega-resort, Prime Minister Perry Christie confirmed yesterday.
Mr Christie said every intention was made to ensure that the more than 2,000 workers were paid today according to the pay schedule but the Ministry of Finance was still working out details.
"The government intended to make payment with the Baha Mar workers on the same basis they did on the last payday," he said, responding to questions from The Tribune, "and we recognise that payday is (Thursday) and every intention was to see that take place."
He added: "There is some difficulty (with obtaining salary information) but I have left it to the Ministry of Finance to work out."
The government's commitment to foot the payroll for one month was part of a bid to block workers from being used as "pawns" in the resort's Chapter 11 bankruptcy claim, filed on June 29 in a Delaware court, Attorney General Allyson Maynard-Gibson said earlier this month.
The average monthly sum for salaries is estimated to be $7.5 million, and the government has not indicated whether it was prepared to continue on for another month if a resolution was not met between the resort and its lender China Export-Import Bank.
More than three days of negotiations in China reportedly ended without a deal to push the project forward, and with the fate of thousands of resort workers hanging in the balance.
Mrs Maynard-Gibson, who led a government delegation to China on the weekend, was expected to return home yesterday.
The government is expected to give a briefing on the matter today.
Baha Mar, according to US court documents, plans to reduce its workforce to just 50 key employees needed to run a "skeleton operation" if it is unable to resolve the dispute with its Chinese partners by next Monday.
On its official website, Baha Mar noted that its July 10 court filing detailing such plans does not mean that workers will be laid off at this time.
Baha Mar also noted that it asked the court to "approve measures to enable a specific group of citizens to assist with the wind-down of their respective operations over a 45 to 60 day period (Group B), and an additional very small team to manage the wind-down and operate the remaining businesses until construction of the resort is complete (Group A), positioning Baha Mar to be able to quickly come back up to speed – and full employment strength – at that time."
Group A includes 52 employees while Group B includes 47 employees, Baha Mar said. Court documents reveal that Group B would ultimately be terminated.
Last week Tuesday, the government confirmed that it had finalised payment for the bi-weekly period ending July 3.
The funds were distributed via direct deposit and cheques.
Baha Mar has denied the government's earlier assertion that it was slow to provide payment information, stressing that the resort turned over the relevant documents only to be subjected to repeated requests for more information.
The resort last week slammed the government for "concocting a sideshow for its own purposes", and questioned why the Christie administration was not supporting the resort's developer Sarkis Izmirlian, who has been "victimised" by resort's general contractor China Construction America.
Baha Mar also said the government's actions have "sown doubt" about the project's future.