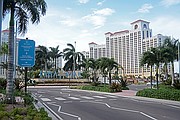 By KHRISNA VIRGIL
Tribune Staff Reporter
kvirgil@tribunemedia.net
CHINA Construction America (CCA) has served two separate notices of termination to its Baha Mar workers amid a continued deadlock over the future of the $3.5bn West Bay Street resort, a spokesperson of the company confirmed yesterday.
According to CCA, in a brief statement to The Tribune, the first of the two week termination notices was served on July 14, with another notice served three days later on July 17 because there is "a lack of work" currently happening at the resort.
The firm declined comment when asked how many workers would be affected by this move. However, at the height of construction, a Baha Mar official said there were more than 3,500 workers on the compound, excluding CCA executives. It is unclear how many of the affected workers are Bahamian.
The Tribune contacted CCA after it was speculated that hundreds of the company's workers had been laid off without severance pay. CCA has said there is no merit to this claim.
"As you are well aware," the statement read, "Baha Mar Ltd locked down the Baha Mar project on June 30, 2015, which has prevented any work to continue from that time until present.
"Unfortunately, due to circumstances that are beyond CCA's control, CCA did issue 'two week notices of termination', (due to lack of work) to some of their employees.
"Any employee that has received this notice will receive their severance pay in full upon the expiration of the two week notice when the lay-off becomes official."
The statement continued: "At that time, the amount of severance paid to each individual will be based upon each individual's time of service and will be in line with the labour laws of the Commonwealth of the Bahamas."
A judge is expected to determine today whether Baha Mar CEO Sarkis Izmirlian's filing for Chapter 11 bankruptcy in a US court will be upheld in the Bahamas.
CCA has opposed the US filing, according to court documents obtained by The Tribune.
In court documents filed on Monday, CCA called for an American judge to dismiss Baha Mar's bankruptcy case insisting that the resort developer was not qualified to take such action under US bankruptcy code.
In addition, the construction firm said Baha Mar's move was in bad faith, done with a view to gain bargaining power during negotiations between major stakeholders.
CCA has further argued that the winding-up petition against Baha Mar filed by the Bahamas government in the Supreme Court last week would accomplish goals similar to that of the Chapter 11 procedure, but in a jurisdiction appropriate for the matter to be heard.
In its court filings, the company frequently alluded to Prime Minister Perry Christie's televised national address about Baha Mar, treating him as an authority on this country's reliance on the development and consequent responsibility for hosting judicial proceedings concerning it. CCA attached Mr Christie's entire address to the nation as an exhibit in their pleadings.
In a previous affidavit, Baha Mar President Tom Dunlap claimed that Baha Mar chose to initiate the Chapter 11 process because, unlike this country's winding up process, Chapter 11 would not "destroy the value of the project it is intended to create."
CCA disputed this, however, emphasising that under the winding up process, a provisional liquidator would be appointed to engage with stakeholders and creditors in an effort to restructure Baha Mar's affairs and complete the resort in the shortest time possible.