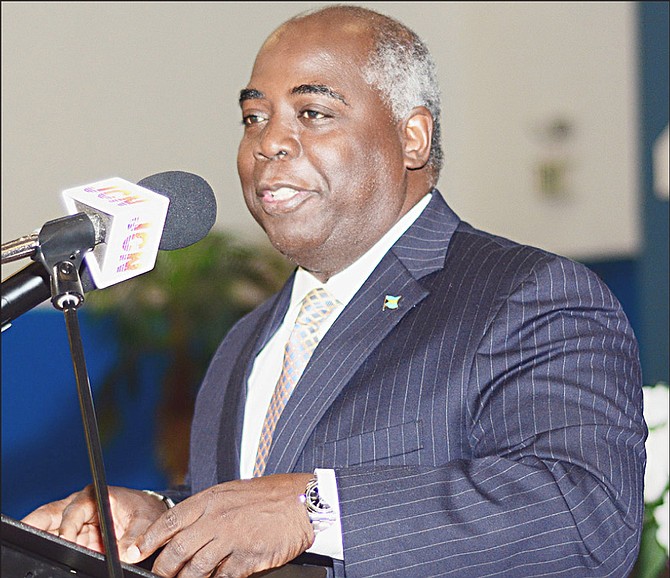 By AVA TURNQUEST
Tribun Chief Reporter
aturnquest@tribunemedia.net
LONG Island MP Loretta Butler-Turner yesterday accused Deputy Prime Minister Philip Davis of seeking to discredit the Office of the Auditor General by undermining its official report into the Urban Renewal Small Home Repairs programme.
Mrs Butler-Turner said Mr Davis' attempt to shift the focus from project weaknesses identified by senior civil servants was unfortunate and a veiled bid to dictate the scope of the House of Assembly's Public Accounts Committee.
She added that his comments in the House on Wednesday demonstrated disregard and cast a negative aspersion on the autonomous government agency.
"The deputy prime minister really overstepped his boundaries," she said.
"I think that it is a very negative aspersion cast on the auditor general in that Mr Davis is pretty much questioning the veracity of his auditing, and even went on to suggest that it was really not accurate because he's not a contractor. I find that to be most ludicrous and preposterous."
"Auditors audit everything," Mrs Butler-Turner said, "the bottom line is when they audit something it's about bringing clarity and accountability into how monies are spent. Mr Davis cast huge credibility questions on the office, this is an office that not only has tenure but is autonomous and it's supposed to be able to do audits wherever is required within government agencies and ministries."
On Wednesday, Mr Davis tabled a technical evaluation report commissioned on phase one of the programme.
It declared that the programme had received value for money, contradicting Auditor General Terrance Bastian's report that stated value could not be determined.
Mr Bastian's audit covers the period of July 1, 2012 to September 30, 2014, and surveyed a sample of 75 homes.
The second report was conducted by technical firms Island Dimensions & Development Co Ltd and J D Chisholm & Associates, and had a sample size of 80 homes or 25 per cent of the 312 homes repaired during the project's initial phase.
While the technical review disputed the audit's findings concerning incomplete homes, it also shared a number of the audit's recommendations such as the strict enforcement of proper construction supervision during repair works and a standardised system of payment.
During his address in Parliament, Mr Davis explained that the original audit was conducted by accountants, and its findings should be tested by experts in the field of construction. He stressed that it was important to address any "erroneous information" provided to the public as a result of the leak of the audit.
Mr Davis acknowledged that the project's execution did not follow normal government protocols, a major critique of the audit; however, he explained that this was an intentional decision made by the executive to circumvent bureaucratic inertia and provide immediate relief.
Given discrepancies highlighted by the ministry's report, Mr Davis suggested that Public Accounts Committee Chairman Hubert Chipman may wish to interview Mr Bastian over the veracity of some of the findings in his report.
Yesterday, Mr Chipman said he had not yet been able to review the independent report due to illness; however, he insisted that House Speaker Dr Kendal Major should not have let Mr Davis "attack" the auditor general's credibility.
Meanwhile, Mrs Butler-Turner insisted that Mr Davis' remarks concerning bureaucratic inertia stigmatised civil servants in the various agencies and was not a credible reason to forego established government protocols.
Mrs Butler-Turner said: "(Mr Davis) actually picked on the points in the report that obviously strengthened his argument, to say that the entire report by (Mr Bastian) is being disregarded because of those things he perceives to be negative.
"I just think it sets a poor precedent, it's undermining the entire process," the opposition MP said.
"I definitely stand by the auditor general's report, why not, that is the constituted arm of government. It's there to audit every agency of the government, and this is the first time that the veracity and credibility of the office in my opinion is called in to question, and no less by the deputy prime minister."