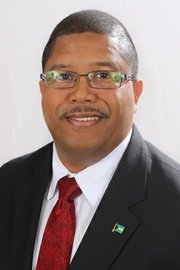 By KHRISNA VIRGIL
Tribune Staff Reporter
kvirgil@tribunemedia.net
FREE National Movement deputy leader Peter Turnquest yesterday said the government's failure to secure a return on the $11.3m spent to hold Bahamas Junkanoo Carnival is a "sad indictment" which proves that the Festival Commission "gambled" with taxpayer dollars.
Mr Turnquest criticised the overall planning of the inaugural Junkanoo Carnival, which was initially projected to cost $9m. The total expenditure for the event was $12,947,650, which included private sponsorships.
Mr Turnquest spoke the day after a report by the Bahamas National Festival Commission (BNFC) was released confirming that the event did not yield the financial gain expected by the government.
The report revealed not only that Junkanoo Carnival went over budget but that the government reaped a meagre $8.3m in combined direct and tax revenues.
"I think it is a sad indictment that we've spent (millions) on this venture," Mr Turnquest said. "When the initial discussion was made about this Carnival it was estimated somewhere around $1m to $3m.
"Then all of a sudden it jumped up to $9m and now we find it is at $12.7m or whatever it was it says. To me (this shows) this was not very well planned out. It says that the control over the organisers was not adequate or did not exist and so they were out spending money wherever they needed to spend money rather than having a concrete plan as to how they were going to spend our money.
"This is an incredible investment of the Bahamian people's money at a time when most Bahamians are finding it very difficult to make ends meet and to find out that not only have we spent $9m but wasted an additional $3m. I think most Bahamians would be very upset at that kind of overspend."
While the BNFC has said it is wrong to contend that Junkanoo Carnival was not a success, Mr Turnquest said he was not convinced with the numbers that have been put forward on visitors' arrivals.
"From all external appearances the events were successful from a participatory point of view, although personally I believe that the numbers they talk about are kinda aggressive but it did not yield the results that were promised to us when they sold (to the Bahamian people).
"For instance they  said this Carnival would result in increased stopover visitors, that the cruise ship passengers were going to account for a major portion of the revenue. According to what Mr (Paul) Major said there were only 900 tourists that attended that Carnival out of 115,000. That is really sad. Now he says it is because they didn't get their headliner out in time. I contend that had very little to do with it."
The commission concluded on Tuesday that the total direct economic activity of the events was about $19m, including $5.5m in Grand Bahama. This total includes the government's local expenditure for the event.
The commission said that tourist-related economic activity, including hotel sales, stopover tourists and cruise tax expenditure, generated about $4.6m. $2.8m of that was generated in Grand Bahama – more than the $1.7 made in New Providence.
The festival attracted about 115,000 spectators or participants, employed 7,208 people and benefited 880 small and medium enterprises, the long-awaited report concluded.
Some 30,000 spectators attended Grand Bahama's events, and 85,000 spectators and participants attended the New Providence events. It was estimated that about 900 tourists attended the events.
The commission blamed the cost overruns on a number of factors, including having to host the initially unplanned Grand Bahama kickoff event and providing funding for additional local marketing and promotional activities.